These French Styled Scrambled Eggs Cooked Sous Vide, Never Disappoint!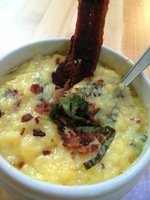 Sous Vide French Style Scrambled Eggs
PREP TIME: 10 minutes | COOK TIME: 30 minutes | SERVES: 2
I have always been a fan of eggs. As a matter of fact, my parents loved to tell the story of how I used to make my own fried eggs as a young child. Dressed in my red and black flannel jammies and robe, I would push my little wooden stool up to the range so that I could reach the burners.
One of the things that I love about eggs is that not only are they inexpensive and tasty, but they are the key ingredient in countless recipes from all over the World. After my culinary training in France, I learned that the French are so crazy for eggs that the classic chef's hat, or toque blanche (French for "white hat"), is surrounded by an average of 100 pleats which suppose dly represents the number of ways that eggs can be prepared.
I don't believe I have mastered 100 recipes for the wondrous eggie, but the one that makes my stomach swoon is the French method for scrambling eggs. Although, scrambled is far too rough a term for this silky, almost pudding-like eggie concoction.
The dish is historically prepared in a double boiler (this insulates the tender curds from the fierce, direct heat from the stove). It requires constant, gentle stirring to prevent the mixture from burning. After starting the beaten eggs in nuggets of rich butter, they are finished with even more butter and heavy whipping cream. This results in an incredibly creamy, eggie concoction that can then be garnished with a myriad of extras.
Not only did the French give us the best ever egg recipe, but they also one-upped themselves when they developed the Sous Vide technique back in the 1970's. Now, with an updated version on the classic recipe, and cutting edge culinary tech from VacMaster, we are all able to recreate this classic French technique. Also, it only requires a few minutes of work and far less calories! Vacuum packing the egg mixture creates the perfect airtight vessel that is then submerged in the exacting temperature controlled water bath of the SV1. Other than collecting the ingredients and blending them up, all that's required during the 30 minutes of cooking is agitating the bag occasionally, just a fraction of the work and tedium from the original recipe. In addition, this new method also allows for drastically cutting back the butter and cream, while the final product is as good, if not better, in my estimation. Regardless of how much to stir and how well you regulate your heat, you are no match to the precise, computer controlled temperature of the SV1.
Ingredients:
6 large eggs
4 1/2 tablespoons unsalted butter, melted and slightly cooled
1/4 cup heavy cream
1 teaspoon kosher salt, or to taste
1 teaspoon ground pepper, or to taste
Directions:
1. Fill and preheat your sous vide container or stock pot with water (according to SV1 specifications) to 165°F (74°C) using your VacMaster SV1.
---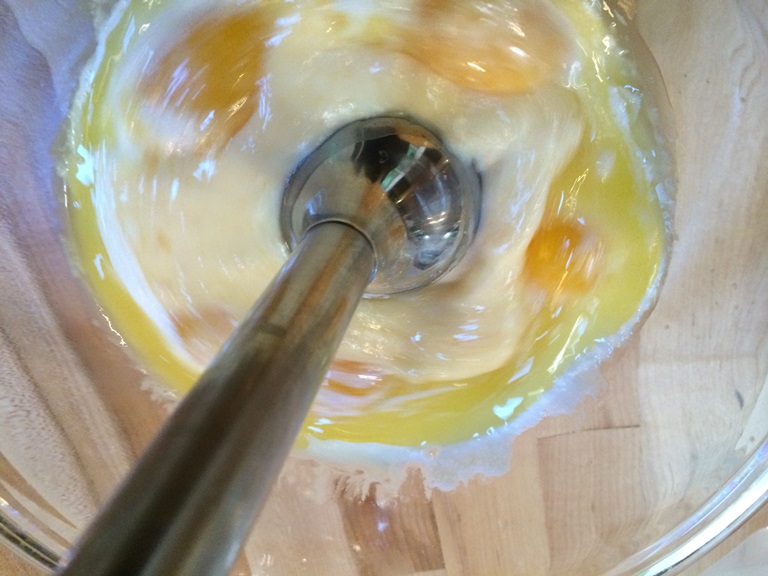 2. In a medium sized bowl combine the eggs, butter, cream, salt and pepper. Using an immersion blender or whisk blend the mixture thoroughly.
---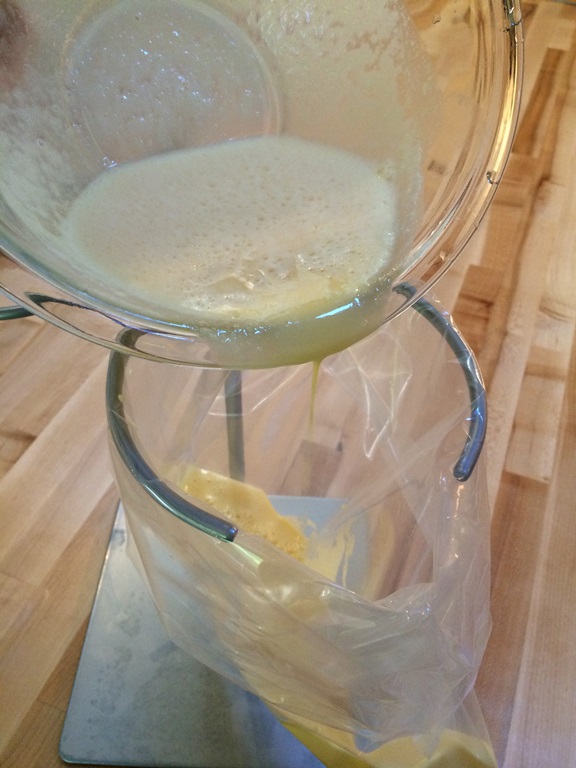 3. Pour the mixture into a medium sized pouch (the VacMaster multi ring bag stand or pouch stand is perfect for this).
---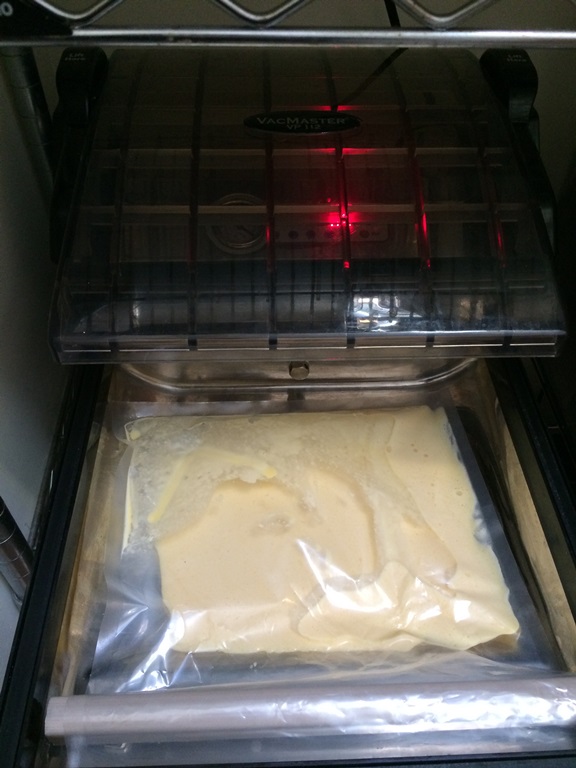 4. Using your VacMaster chamber machine, vacuum and seal your pouches. (Chef Tip: As liquids boil in a vacuum, and we are dealing with cream, the egg mixture will want expand. It's a good idea to keep your eyes on the mixture level and if the eggs get close to the opening - seal immediately to prevent the mix from overflowing)
---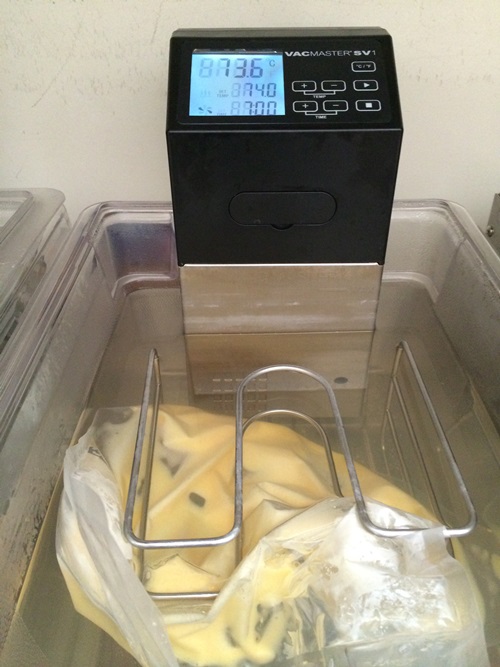 5. Gently submerge the sealed pouch(es) into the preheated SV1 water for a total cooking time of 30 minutes.
---
6. After 10 minutes carefully take the egg pouch out of the water and massage it to break up the eggs.
7. Return to the water and repeat procedure after an additional 10 minutes and return to the SV1 to finish up the cooking for a total of 30 minutes or until the mixture begins to firm up to your liking.
8. Remove the pouch from the water and massage it once more.
---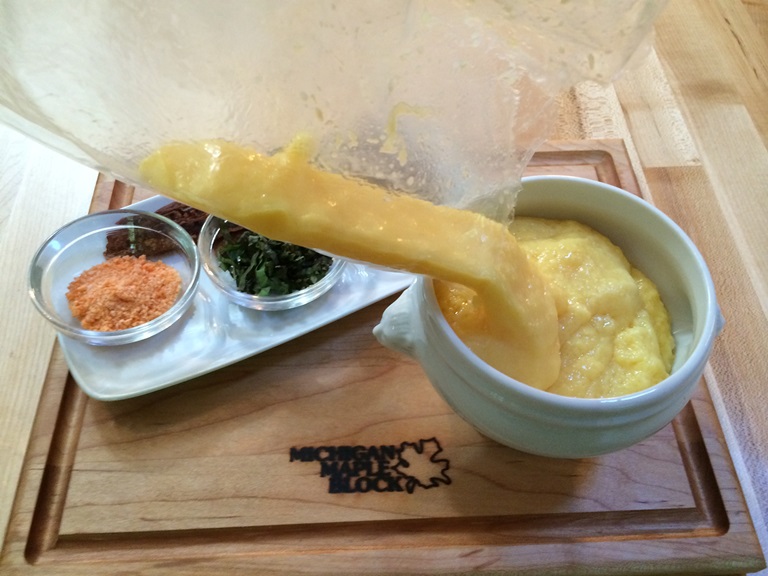 9. Pour the eggs evenly into your serving dish. Serve.
---
Chef Tip: Taste for seasonings and add any salt or pepper, if needed. At this point, feel free to garnish your eggs with any extra flavors and garnishes at will. As you can see I used thick cut smoked bacon and basil for mine. In the past I have used smoked freshwater whitefish, gently poached shrimp, and even a sauté of wild mushrooms. Whether it's garnished to the hilt or serve plain, these French styled scrambled eggs cooked sous vide, never disappoint!

Recommended Cooking Times and Temperatures for Sous Vide Cooking!