Chamber Vacuum Machine Comparison
Dry pump? Oil pump? Seal bar size? Bag sizes? Counter space footprint? Looking for answers? This handy infographic can help you determine which of seven different VacMaster vacuum chamber sealers best accommodates your needs and fits into your world (and on your countertop).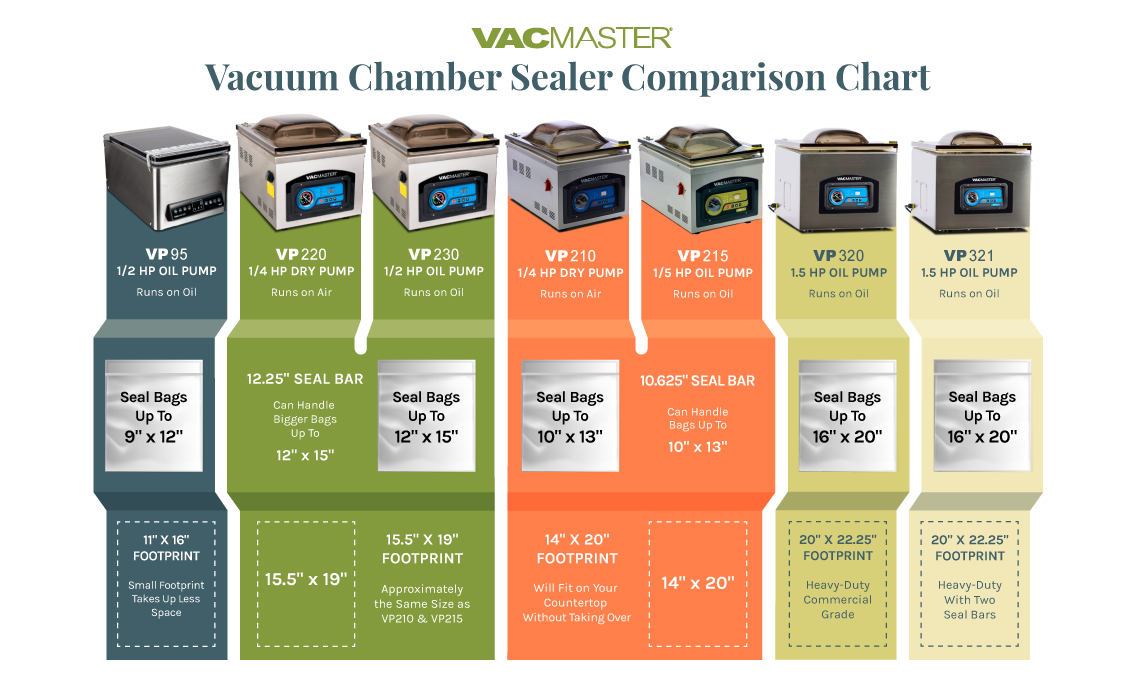 Let's examine what differentiates the two primary types of chamber vacuum sealers, the pumps. Dry pumps are maintenance-free whereas oil pumps require periodical maintenance in the form of oil changes. An oil pump machine will last longer, with proper maintenance, than the dry pump. Dry pumps do not pull as strong a vacuum as the oil pump. But, they both pull the same amount of vacuum [down to a fraction of a percentage] oil pumps just do it faster. The average home user will not see a difference. It only becomes apparent in a commercial setting where time is a factor. And speaking of commercial setting, a chamber vacuum sealer with an oil pump is able to run continuously without the need for breaks that a dry pump unit will require. An oil pump is ideal if you will be sealing a large quantity of items, perfect for processing game or sealing product for a business at a continuous rate. It really comes down to your needs and what you require of the machine. So, there you have it, a basic overview of one of the factors you want to consider when shopping for a chamber vacuum sealer. Once again, check out this handy infographic that lays out seven different VacMaster chamber vacuum sealers and the unique advantages each has to offer.
To find more helpful information check the Help Center and the Fresh Bites Blog regularly, and feel free to reach out to us here as well.