Same Machine, Lower Price- Factory Refurbished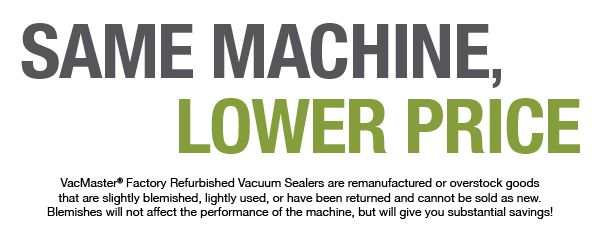 Factory refurbished machines are very popular, and tend to disappear very quickly from our outlet store. Of course the release of these machines is also accompanied by many questions about why the machines are "refurbished" and why they are so substantially discounted. These items differ from "close out" as those are items that have been discontinued, and are being sold brand new and a heavily discounted price.
Some of the frequently asked questions include:
1. Are these machines used?
2. Do these machines work?
3. What is wrong with these machines?
4. Do these machines come with a warranty?
Here are the answers to these questions:
1. Some of these machines are returned items and may be slightly used, but must pass inspection before being sold as factory refurbished. Many of these machines have never been sold or used, but have cosmetic blemishes (scratches, dents, etc...)that do not affect performance, but prevent them from being sold as "new".
2. Yes, these machines are inspected for original mechanical and electrical condition. Factory refurbished units may be slightly blemished or lightly used, but performance will not be affected. You will receive the same one-year limited warranty as a "new", just at a substantially lower price.
3. There are no functional/performance issues with these machines. Some machines may have a cosmetic blemish such as a scratch, while others may be returns that cannot be sold as "new".
4. Factory refurbished machines come with the same one-year limited warranty as any of our "new" units, and are required to pass inspection before being sold.