Seared Boneless Pork Loin Steak with a Fresh Mixed Herb Rub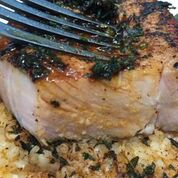 Salt sneaks its way into pre-packaged and processed foods, canned vegetables, cured meats and deli meats. I'm sure you've all heard that salt overload can create havoc in your body with maladies like high blood pressure, heart and kidney disease. Not to mention increasing inflammatory conditions such as arthritis and hormonal issues.
But wait, there's great news! Cutting down on salt doesn't mean you have to give up flavor and it's ridiculously simple to substitute a variety of spices for salt in recipes! This Fresh Mixed Herb Rub drops the salt down to a measly 1/8 of a teaspoon and it shines due to the mix of fresh herbs and spices. I like to add a bit of the optional olive oil to as more of paste and up to 1/4 cup to make a dressing that's perfect for not only seasoning but being used as a finishing drizzle as well.
For a final touch a squeeze of the optional lemon or lime wedges really brings out the flavor!
I'm going to use the recipe on some boneless pork loin steak I've cooked Sous Vide.
Taking advantage of good pricing on large cuts of meat, preparing easy to execute meals in a moment's notice and using cutting edge technology for superior taste and texture, this method for pork loin is a winner.
I found a boneless pork loin at a great price at my local grocery and created well over a dozen pork steaks that I have at the ready for any mealtime. All I need to do is simply reheat those steaks, season to taste and I'm ready to serve!
First the Pork: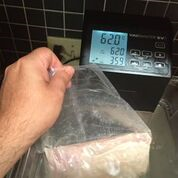 Ingredients:
• 1 2-3 pounds boneless pork loin
Directions:
1. Preheat your SV1 to 144F/62C
2. Place the boneless pork loin into a suitable sized VacMaster® bag. Using a VacMaster® suction or chamber machine; vacuum seal the pork and carefully place in the preheated SV1 for a minimum of 4 hours and up to 6 hours.
3. Carefully remove the bag from the SV1 and immediately immerse into an ice water bath to chill completely.
4. When thoroughly chilled remove the loin from the bag and cut into individual steaks and package each steak individually using appropriately sized VacMaster® bags.
5. Use now with the Fresh Mixed Herb rub, refrigerate, or freeze immediately for later use.
Now the Fresh Mixed Herb Rub:
Ingredients: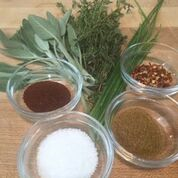 2 teaspoons chives, freshly minced
2 teaspoons thyme, freshly minced
1 teaspoon sage leaves, freshly minced
1 teaspoon chili powder
1/4 teaspoon ground cumin
1/4 teaspoon crushed red pepper flakes
1/8 teaspoon coarse salt
Olive oil, optional, as needed
Lemon or lime, wedges, as needed
Boneless pork loin SV steaks see recipe, as needed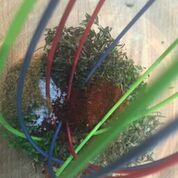 Directions:
1. Preheat the SV1 to 144F/62C
2. In a small bowl combine chives, thyme, sage, chili powder, cumin, red pepper, and salt and the optional olive oil, reserve.
3. Add the previously cooked and individually vacuum packed boneless pork loin steaks in the SV1 for 5-10 minutes just to heat through
4. Smear a tablespoon or so of the rub over both sides of the pork and quickly sear in a preheated and hot nonstick pan for just 20 or 30 a side.
5. Plate the pork loin with a final drizzle of the herb rub and squeeze of citrus.