The Best Snack To Serve On The Fly: Heat A Batch Of Cheese Fondue Sous Vide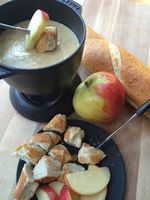 Necessity being the mother of invention it is said that the Swiss popularized Cheese Fondue as a Swiss national dish in the 1930s as a way of increasing Swiss cheese consumption.
Cheese Fondue's first mention dates as far back as Homer's Iliad, from around 800 to 725 BC; it was described as a mixture of goat's cheese, wine and flour. But modern fondue – melted cheese and wine set in a pot over an open flame – dates to the late 1800s.
As my home state of Michigan is an apple growing powerhouse I love pairing that fabulous fruit not only to use along with cubed bread to dip but also use the juice either fermented as hard cider or a more kid friendly sweet apple cider. Regardless of whichever you choose the apple pairs beautifully with the cheese.
Cheese fondue is not a dish that can easily be made ahead and reheated; the cheese is quite problematic and usually ends up separating and becomes stringy.
Sous Vide to the rescue! It's the precise consistent temperatures of VacMaster's SV1 calculator that slowly heats up the previously made vacuumed packed fondue producing a smooth delicious recipe like you just made it!
It's simple, just make up a batch of fondue per my recipe, and let it cool and using a VacMaster® suction or chamber machine and using VacMaster® bags portion the fondue into any portion size you like.
When you're ready to enjoy just place the vacuumed packed fondue in the VacMaster® SV1 preheated to around 65°c or 150°F for about 5 minutes or until the cheese is properly melted and hot - it's easy cheesy!
Ingredients:
• 8 ounces hard apple cider
• 8 ounces emmenthaler cheese, grated
• 8 ounces gruyere, grated
• 1 tablespoon roasted garlic, puree
• 1 pinch sea salt
• 1 pinch coarse pepper
• 1 pinch nutmeg
• 1 ounce all-purpose flour slurry, (equal parts cold water & all-purpose flour mixed until smooth)
• 3 cups cubed crusty day old bread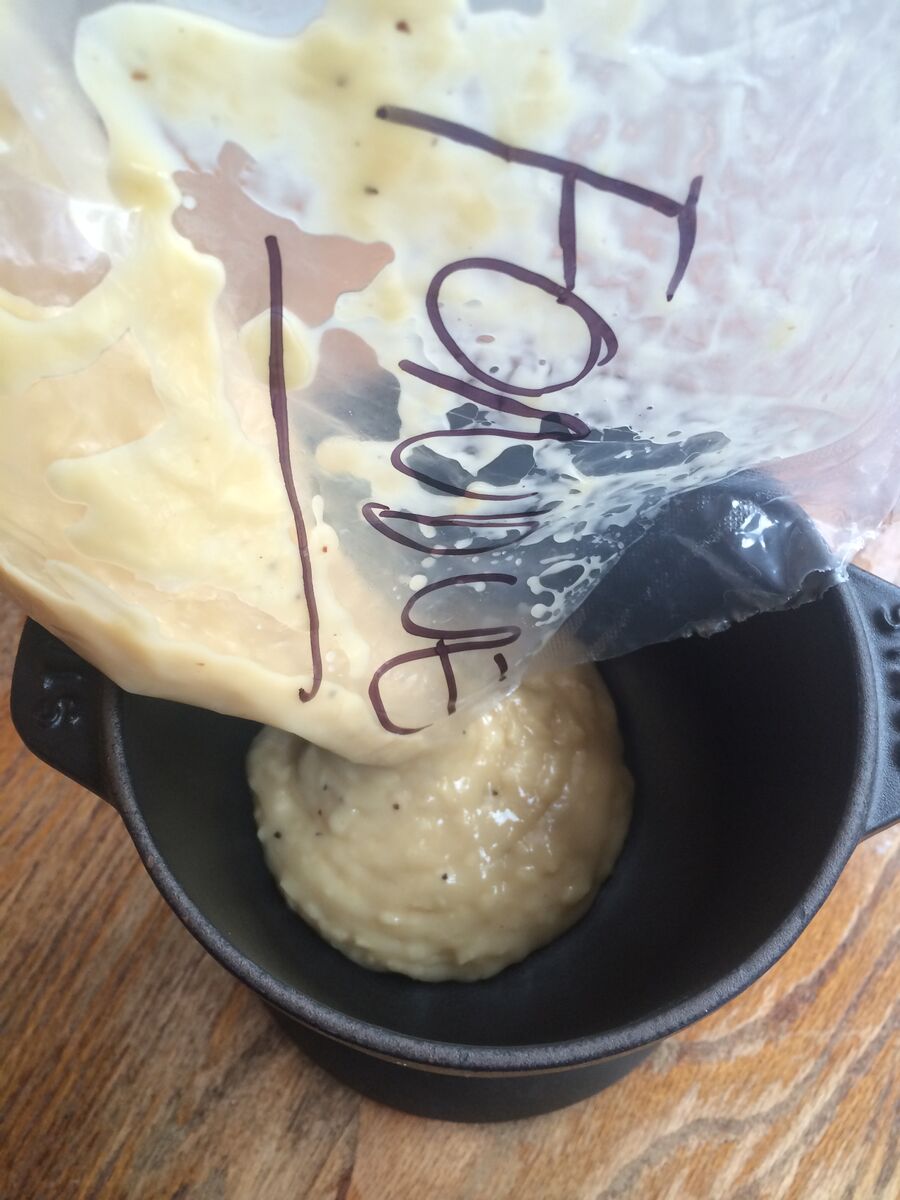 Directions:
1. Place the cider in a small saucepan with the emmenthaler, gruyere, roasted garlic puree, nutmeg, salt and pepper.
2. Place over a high flame and bring to a boil when the cheese is melted immediately add the slurry whisking briskly until the fondue starts to thicken.
3. As soon as the fondue is thick and smooth immediately pour into a serving crock and serve with the cubed bread.