How do I know which bags, rolls or pouches are best to use?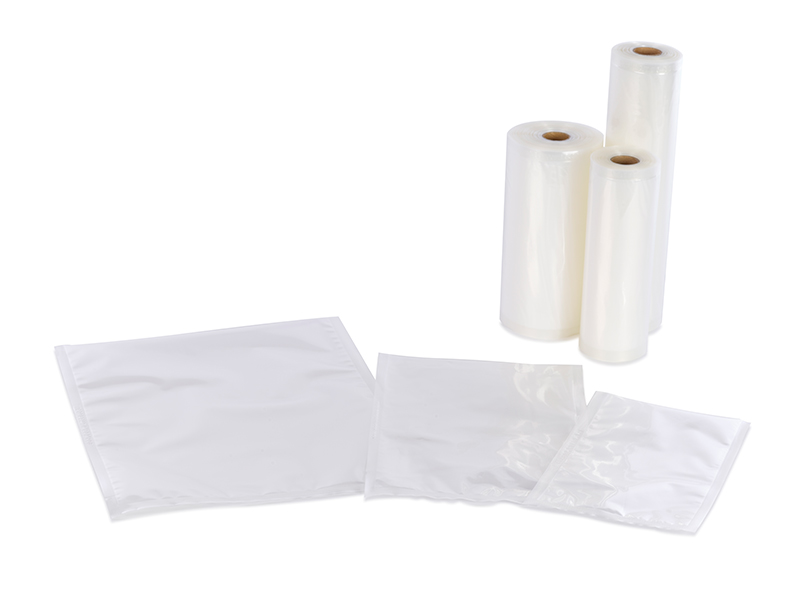 Buyer's Guide for
Vacuum Sealer Bags
VacMaster bags are made with high quality materials that are BPA free and FDA approved for food storage. Our patented mesh technology guarantees superior sealing performance to keep food and game fresh up to 5X longer than traditional storage methods. All storage bags can be frozen, boiled, microwaved, and used for sous vide.
VacMaster bags are not just for VacMaster machines. Our bags are compatible with other brands vacuum bag sealers. The first step to finding the right bags for you is based on what type of machine you are using.
You are using a suction vacuum sealer:
If you have a suction/external vacuum sealing machine you are going to want to use any of our mesh lined vacuum sealing bags and rolls. The patented technology of our mesh lined bags ensures superior performance on all vacuum sealers. Suction machines are NOT compatible with chamber pouches; because the mesh is required for the machine to properly vacuum and seal the bag.
You are using a chamber vacuum sealer:
One of the perks of the chamber vacuum sealer is that you can use ANY of our bags, rolls or pouches with it. The mesh is not required for this type of machine because the air is not "sucked" out of the bag; it is evacuated from the entire chamber. This can be a large cost saver over time if you use a lot of bags because the chamber pouches are less costly than the mesh bags and rolls required for a suction machine.
Vacuum Sealer Bag Thickness
Chamber vacuum sealer bags are available in 3 different thicknesses to provide the best options for your vacuum packaging needs.
3-Mil Bags The 3-mil bag is the industry standard. These economical bags are suitable for most applications and ideal for filets and other soft body items.
4-Mil Bags The 4-mil bag is a premium grade vacuum bag is made for medium to heavy-duty applications such as packaging bone-in cuts of meat.
5-Mil Bags The 5-Mil bag is built for heavy-duty packaging applications that have a lot of sharp artifacts such as bones, spines or an exoskeleton.
Bone Guard The VacMaster Bone Guard reduces the risk of puncture due to sharp objects that can damage a bag during the vacuum process.
What's the deal with bags, rolls and pouches? What's the difference?
Vacuum Sealer Bags These are the pre-cut vacuum sealing bags with our patented mesh technology. These may be used with either suction or chamber machines.
Zipper Bags Opened on the bottom with a re-sealable zipper closure and tear away top. These bags are perfect for beef jerky packaging
Retherm Pouches These bags are designed to endure long boiling times compared to traditional vacuum bags. These are compatible with chamber vacuum sealers only.
Vacuum Sealer Rolls
Constructed with a smooth outside and an embossed texture on the inside that allows this bag type to be used on both suction and chamber machines alike. The beauty of the roll is that you can create whatever size bag you need right on the spot when you need it! Simply:
1.Cut the roll to desired length
2.Seal one end
3.Fill bag
4.Use just like you would a pre-cut bag!
Just like with the bags, these may be used with either the suction or chamber machines.
Vacuum Sealer Pouches
These are pre-cut bags without the patented mesh required for a bag to work properly with the suction machines. These pouches are only intended for use with chamber machines. These bags are more cost effective making them perfect for commercial use.
Vacuum Bag Sizes VacMaster vacuum sealing bags are available in 175 different sizes including these common sizes Pint 6"x10" Quart 8"x12" Gallon 12"x16" 2 1/2 Gallon 17"x24"
VacMaster Vacuum Sealer and Sealer Bag Compatibility Chart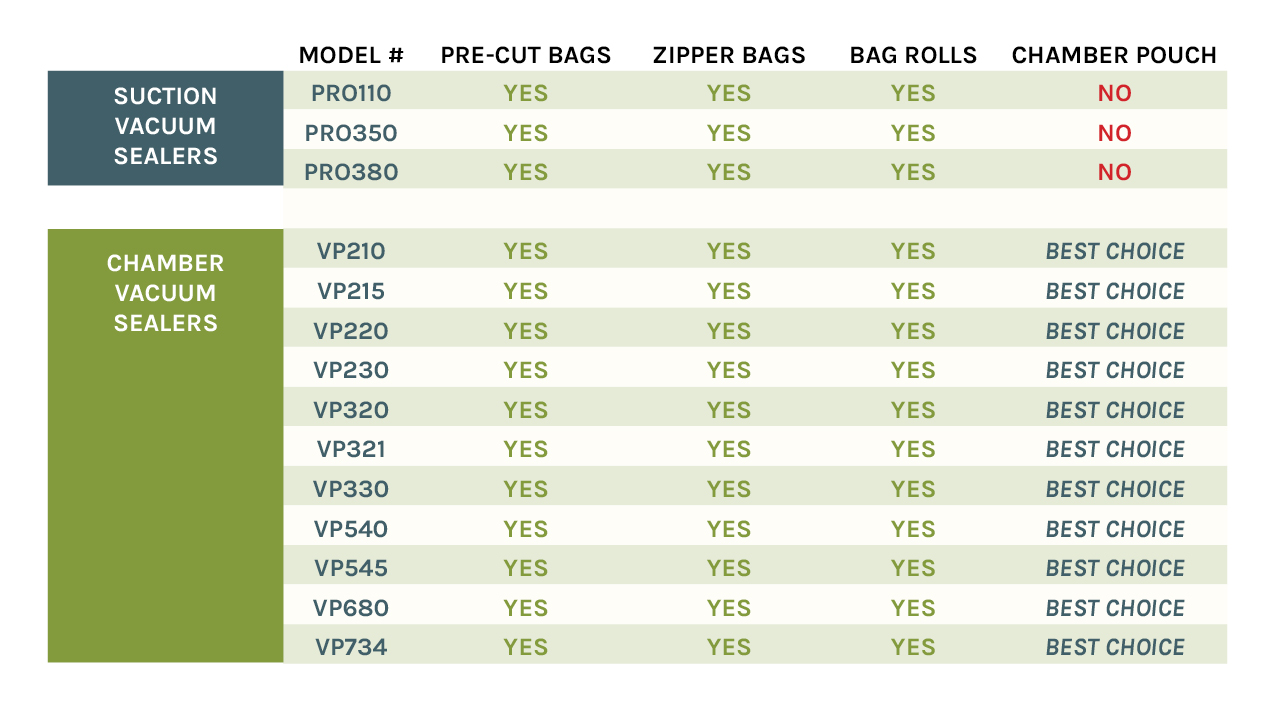 All bags conform to:
BPA FREE
DEHA
Global Food Initiative
All bags are co-extruded films classified by PE/PA polyethylene/ polynylon materials.