American Royal: A BBQ Enthusiast's Dream
Last weekend, VacMaster sped into the
Kansas Speedway
for the
American Royal
World Series of BBQ, the ultimate pit stop for BBQ competitors and enthusiasts! From the starting line, it was evident this wasn't your typical cookout.
Our pit crew set up camp under the National Barbeque & Grilling Association's tent, immersing ourselves in the heart of the BBQ action. On Saturday, live demos were led by Old Arthurs, Tribal Fire Grills, Willingham's, Kaiden Blake, Cotton Gin Smokers, and of course BBQ Kirk with VacMaster. And for those tuning in from afar, we graced the airwaves on Grabem In The Brisket's podcast, sharing our passion for all things vacuum sealed.
Anyone who stopped by our demo with BBQ Kirk was introduced to sous vide pork belly. If you're new to this culinary technique, sous vide is precision cooking at its finest – food is sealed using our vacuum sealers and then cooked in a water bath at a precise temperature to achieve unparalleled flavor and texture. See recipe below.
Reflecting on the event, our journey at the American Royal was a culinary delight. We bonded with new friends, relished unforgettable BBQ, and spread our love for innovative cooking techniques. Here's to more BBQ adventures.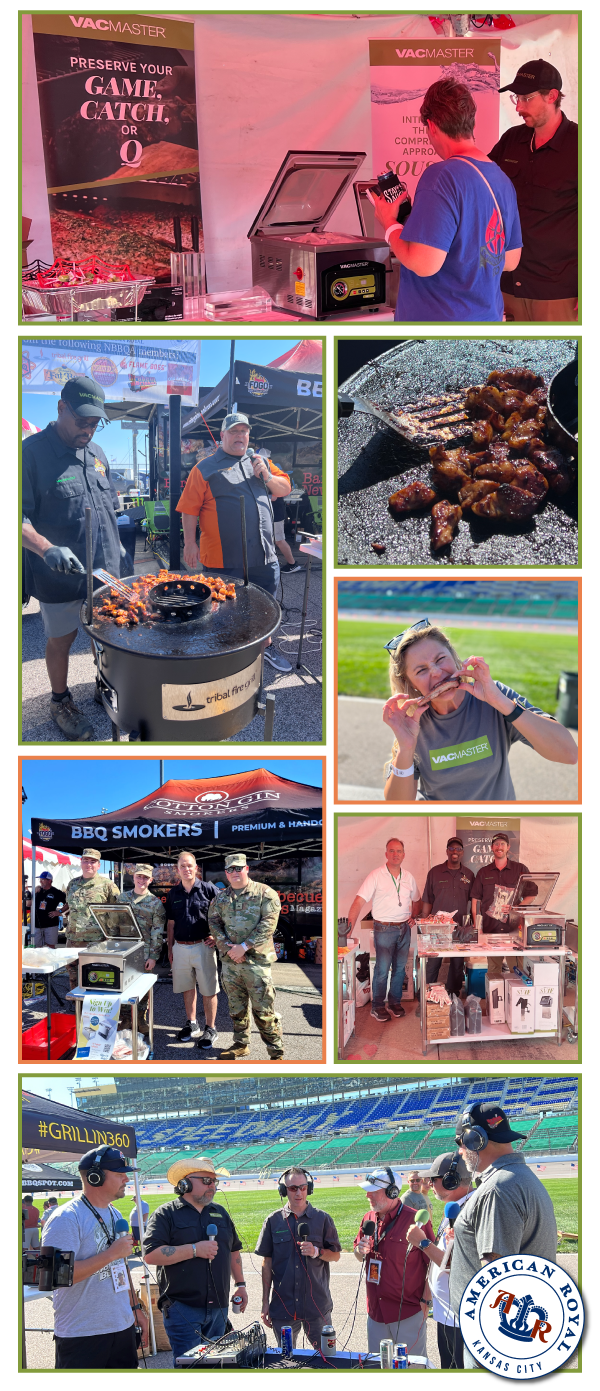 Sous Vide Pork Belly Recipe:
Ingredients:
Instructions:
Sous Vide the Pork Belly : Place the pork belly in a vacuum-sealed bag and submerge it in a sous vide water bath. Set the temperature to 165°F (74°C) and cook for 6 hours, ensuring the pork belly is fully submerged.
Prepare the Glaze : Generously brush the cooked pork belly with BBQ Kirk's Hickman's Sticky Stuff BBQ sauce, ensuring an even, rich layer.
Add Sweetness : Lightly sprinkle the glazed pork belly with brown sugar for that touch of sweetness.
Grill to Perfection : Heat up the Tribal Fire Grill. Once hot, place the pork belly on the grill and cook until the sugar and BBQ sauce meld together, caramelizing the surface.