Process your game like a PRO with the GameMaster™ System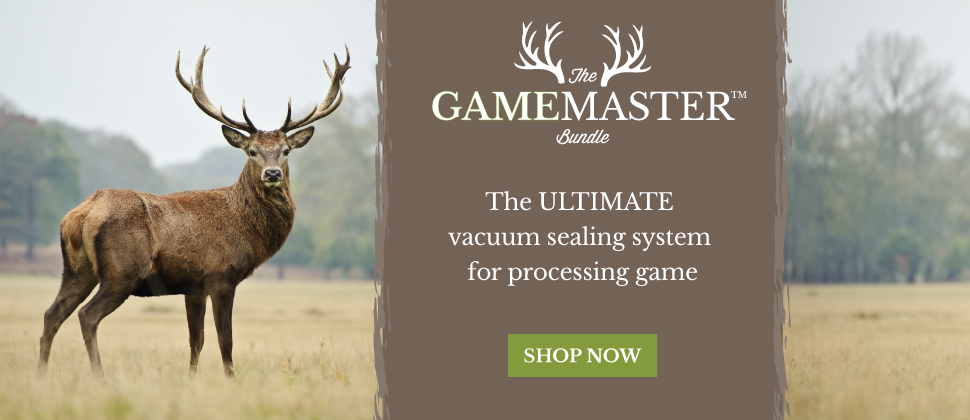 We hear about it left and right, and getting pretty excited about it ourselves, that special time of year is getting closer by the day. DEER SEASON. VacMaster® wants to make sure all of our favorite hunters (that's you guys) are ready to process all of your game this year. We've put together the GameMaster™System the perfect bundle for active hunters and fishermen, providing you with what you need to process your prize at home.
The GameMaster™ System includes the:
•VacMaster® PRO380 vacuum sealing machine
•1 bonus 15" x 50' roll
•1 bonus box of 100 8" x 12" bags
Perfect to prep and package any game or fish. This still in addition to the 11" x 50' roll and 6 quart sized bags that already come with the VacMaster® PRO380.
We know you're not messing around the VacMaster® PRO380 is a heavy duty vacuum sealer built to handle the heavy use necessary to process your game after a big hunt. The extended 16" seal bar allows you to seal two bags at once or to use jumbo bags. The machine includes storage for rolls up to 50 feet long, as well as a bag cutter for creating custom sized bags from your rolls. To keep up with the intensity of processing game this machine includes a powerful dual piston pump and cooling fan. See it in action ↓
Use your bonus 15" x 50' roll to make your own jumbo bags long enough to seal those long pieces of meat or fish. The quart bags and 8" x 12" bags are perfect for portioning and sealing two bags at once. The GameMaster™ System is built strong to keep up with your active hunting and fishing habits.
Order today to make sure it's here before your next hunt and get out there and bring home that game!