Camp Sous: Week 5 - The Chicken Challenge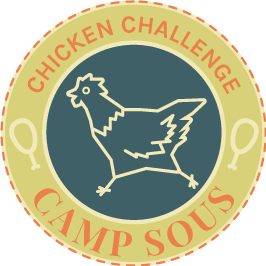 Despite being rained out last week, the denizens of Camp Sous have bounced back to a bustle of activity in the kitchen putting the Camp Sous Survival kit ( external vacuum sealer, sous vide cooker and pouches and roll bags) to good use. The amateur sous vide cooks delighted in the convenience of pre-vacuum packed and frozen foods and one special camper concocted a sweet-n-spicy finger food just for fun!
That's right folks, if it's pre-vacuum packed, it can soak in the sous vide. One of our campers, homesick for ma's Irish classic, found out if you get a store bought seasoned piece of corned beef, you can just toss it in the bath and conveniently cook away. It's something literally anyone, with a sous vide cooker, can try! And speaking of convenience, not only can you cook in a warm sous vide bath you can defrost and then cook. As one camper realized by tossing some frozen shrimp and fresh ingredients into a bag. Sealed it. And BOOM two birds... one bath?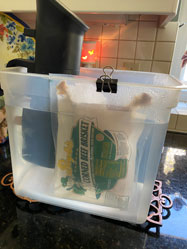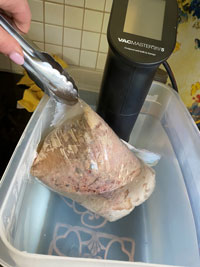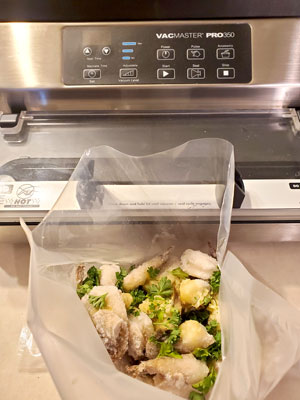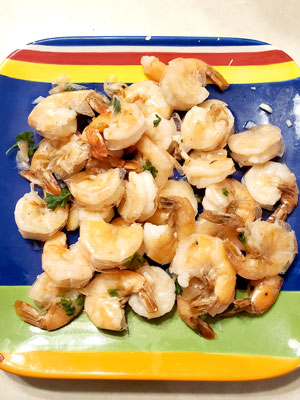 This Week's Recipe

Gig's Sweet-N-Spicy Drummies

This recipe is super simple and tasty. I used a bag of small wings and legs, divided them up into two bags. I coated the wings and legs with Frank's Buffalo Hot Sauce in one bag, and the other I used KC's very own Arthur Bryant's BBQ sauce. Gave each bag a shake and a massage to move the sauce over the chicken. Sealed them up with the VacMaster Pro 350 and dropped them into the sous vide bath at 160 F for two hours.

Outside I had the kettle grill going with the charcoal pushed towards the edge so I could keep the chicken from the hot sauce and bbq sauce separated. Once on, I cooked the chicken about three minutes a side, enough to get a sear on both sides to give it a bit of a crunch. The results were amazing. The chicken was tender and flavorful. There wasn't that traditional crunch from frying the wings and drummies, but the slight smoke flavor, and char from the grill was pretty satisfying for us.