Make This The Best Holiday Season, Start Preparing Now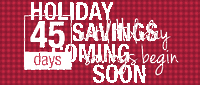 We are already half way through October, how did that happen? It's already time to start planning and preparing for the big holiday season around the corner! While it may seem too soon (trust me we feel it too) starting now will get you ahead of the game and make the holidays less stressful. There are many little things you can do now to make the holidays easier, we'll share our ideas, and we'd love to hear yours in the comment section below.
Our Holiday Early Preparation Tips:
• Make your cookie dough now (just freeze it in a VacMaster® bag until you are ready to bake)
• Plan your menu now, so you can buy all your ingredients before the stores get too busy, or run out (store ingredients in VacMaster® bags rolls and pouches to keep fresh)
• Plan shopping lists ahead so you know exactly what you need for Black Friday and Cyber Monday shopping
• Do your research early and know what you need:
- Chamber Sealers (chamber technology)
- Suction Sealers (suction technology)
- Know the difference between the two
• Subscribe to our mailing list and follow us on Facebook, Pinterest, Twitter, and Instagram to make sure you get the best holiday deals
• Check the Fresh Bites Blog regularly for recipe inspiration.