Chicken Breast on Mixed Baby Greens with Toasted Quinoa and Avocado
Salads are good food!
This ridiculously easy salad of sous vide chicken breasts offers anyone a delicious and healthy meal in just a matter of minutes especially when you start thinking ahead and stock up your refrigerator with quality ingredients all perfectly cooked sous vide and vacuum sealed just waiting for you.
The addition of white quinoa (KEEN-wah), is a nice way of adding a highly nutritious grain to you diet but not being heavy handed. Quinoa, AKA "The Aztec Wonder Grain" (which is technically a seed) is high in protein and gluten free is also chock full of nutrients yet, is so light and fluffy you hardly know it's there but boy-oh-boy when it's toasted you sure can taste it! Toasting the grains in a dry skillet brings out a delightfully nutty quality to the ancient grain that offers the perfect counterpoint to the lean chicken and rich avocado.
My choices for the greens and additional tasty tidbits are totally driven by my personal tastes and what was available at the market that day, as should be with all good meals. Feel free to experiment with differing combinations just keep it fresh and keep it tasty!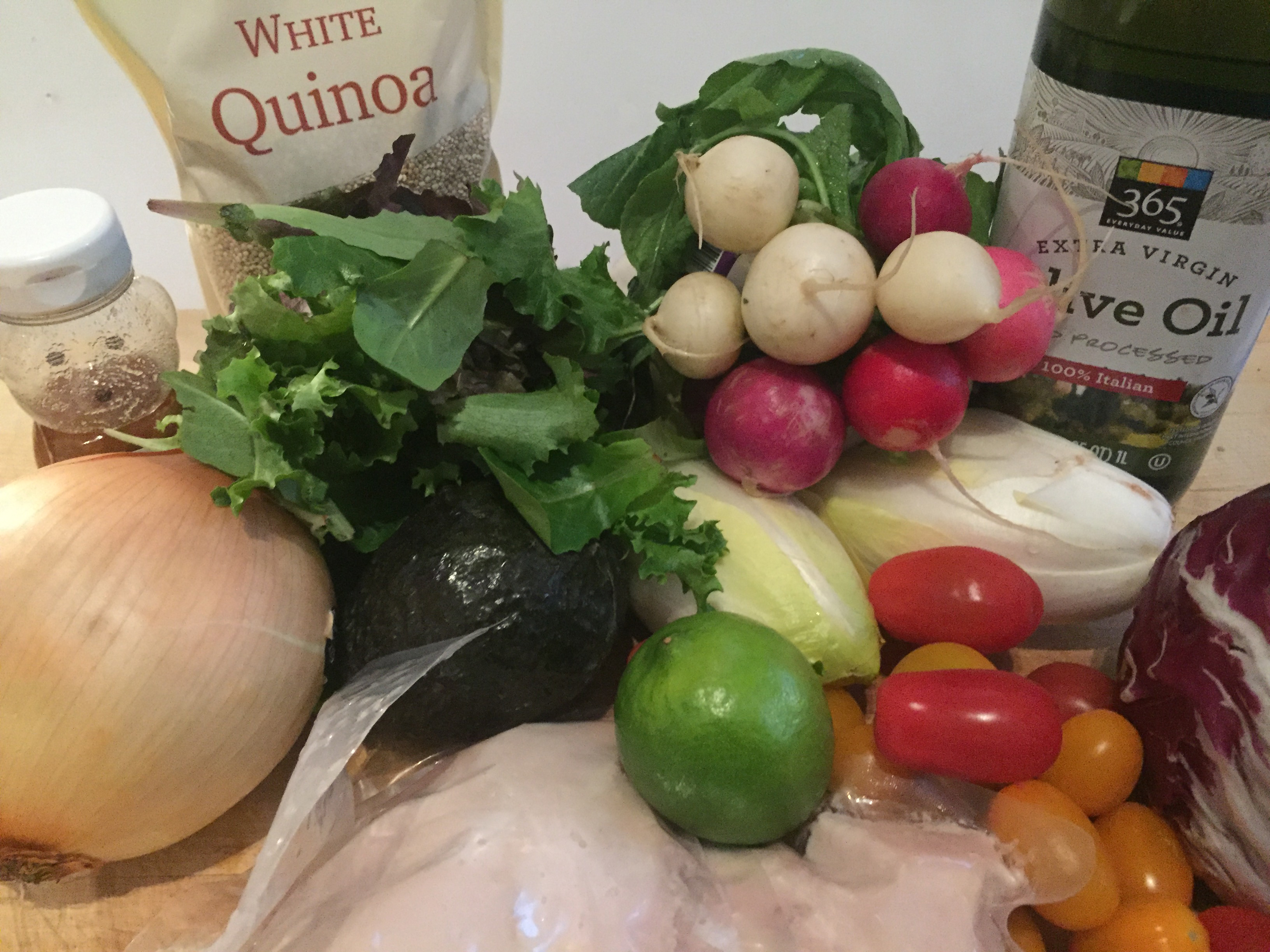 Ingredients:
For the dressing:
• 3 tablespoons fresh lime juice
• 1 tablespoon Dijon mustard
• 3 tablespoons honey, clover or similar
• salt and freshly ground black pepper
• 6 -8 tablespoons extra-virgin olive oil, or to taste
For assembly:
• 6-8 cups mixed baby greens, with a bit of radicchio and endive, optional
• 4 6 oz. chicken breasts SV, see recipe, chilled
• 1 bunch small radishes, tricolor if possible, stemmed and thinly sliced
• 8 ounces' cherry tomatoes, multi colored if possible, split stem to core
• 1 whole avocado, ripe, peeled, seeded and sliced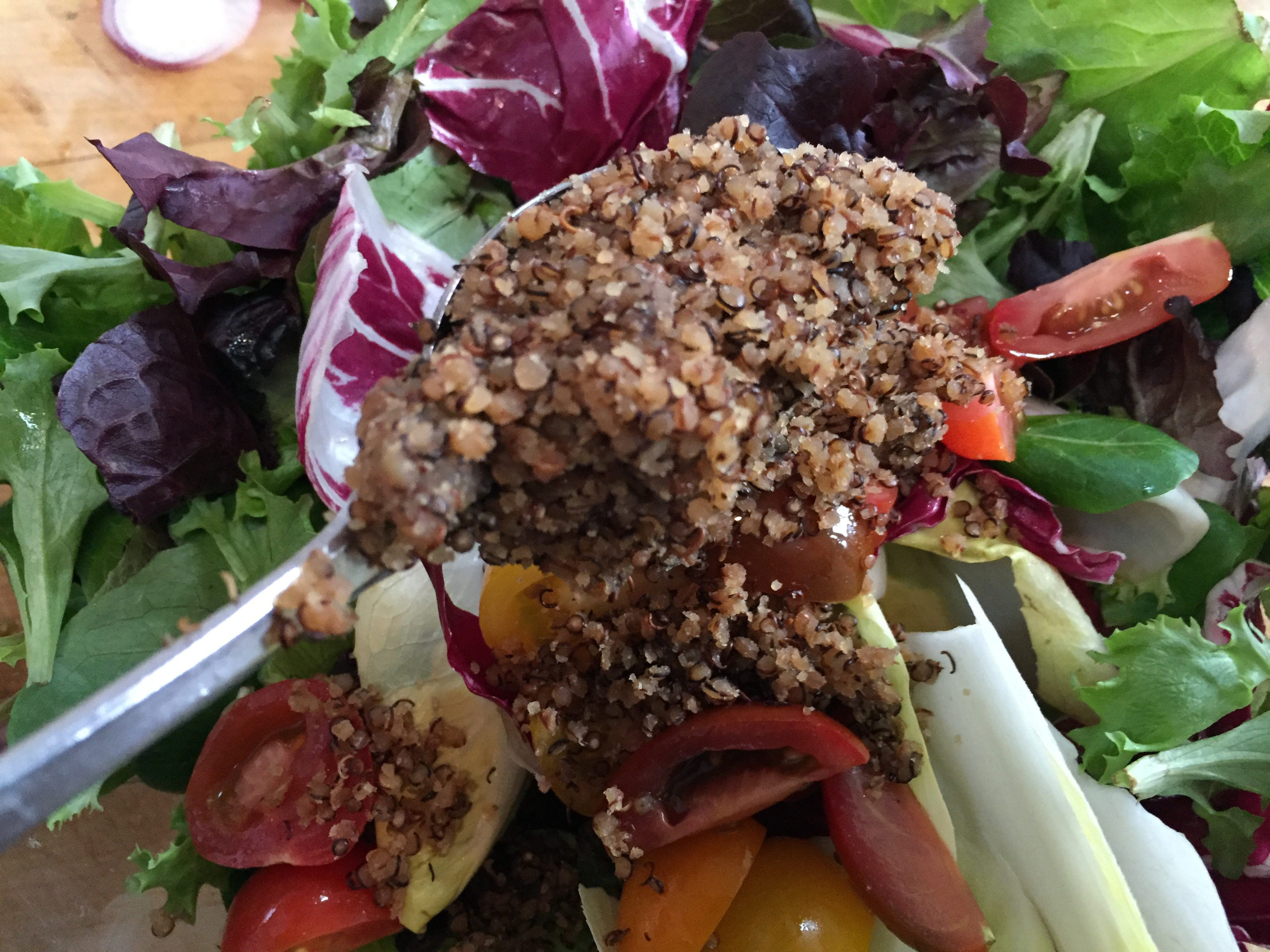 Directions:
For the dressing:
1. In a small bowl, whisk together the lime juice, Dijon, honey and salt and pepper to taste.
2. Drizzle in the olive oil whisking rapidly to create a soft emulsion, reserve.
3. In a large mixing bowl using tongs lightly toss the greens with the toasted quinoa, radishes and cherry tomatoes.
4. Drizzle in some of the dressing (about half or to you taste) little by little and toss the salad mixture thoroughly.
5. The greens should just hold the dressing lightly and not pool at the bottom of the mixing bowl.
For assembly:
1. Remove the chilled chicken breasts from the vacuum bag(s) and using a thin bladed knife cut the breasts on the diagonal 3 or 4 times
2. Divide the salad among serving bowls and top each bowl equally with the sliced chilled chicken, avocado, and radishes.
3. Drizzle with a bit of the remaining dressing.
4. Serve immediately.