Chili con Carne Sous Vide
As many have written, Texan Chili con Carne is just that, chili peppers (chili) with (con) meat (carne). That's it, no beans, tomatoes, ketchup, rice, spaghetti or any other sorts of culinary comestibles. Now, I'm not about to say any of those additions or any others are wrong. As a matter of fact I find a bacon-y and bean-y addition quite pleasing at times but for this recipe, for this interpretation of a classic bowl of red, we are going bare bones, and after that, it's up for grabs!
Even though the wording is in Spanish and filled with many Latino ingredients and techniques, it's believed not to be a traditional Mexican dish at all. As it has been said many a time, "If chili is Mexican it would still be in Mexico." No, it's probably a creation of TexMex cuisine or the foods of the Texas border towns that borrowed heavily from the classic Mexican kitchen as well as the emerging Texan foodways.
The opportunity to cook the meat for this chili using the sous vide technique offers the eater an unparalleled experience. First, a well-marbled chuck roast is seared over high heat in rendered tallow or beef fat, until well browned or even charred on all sides for maximum beefy flavor leaving the center raw and cold. Secondly, the meat is cut into large meaty chunks and tossed in the bag along with a puree of charred and toasted chili peppers, fresh onions and garlic then showered with my Northern Heat Chili Spice. The cooking time is a solid 30-35 hours for the meat to emerge plump and juicy yet, still, offer a wonderfully tender yet toothsome bite which is one of the hallmarks of the sous vide method. Finally, the heady chili smacked puree is seemingly infused into the meat offering the eater a delicious trip to tasty town.
I've never been a fan of heat just for heat's sake. In this recipe, I have offered multiple options for adding more heat to satisfy one's taste from the whole chilies and spices in the puree to offering my Northern Heat spice blend on the side to amp up the heat and flavor at will. My version has a nice mellow slow burn on the tongue that for my taste doesn't distract from the rich and robust flavors offered.
One final thought on possible additions to a more or less classic, bowl of red. Even though it's frowned upon by legions of chiliHeads, I love offering the pure version on its own first, so my eaters will understand where the dish came from and why it has stood the test of time. After that additional garnishes, my friends and family might enjoy are at the table like my guacamole, tomatillo salsa and pinto beans with bacon. Not to mention a bit Mexican crema or sour cream and a dusting of grated cheese is never a bad thing! That said, taste is purely subjective so feel free to experiment with more or less, in the end, it's your chili!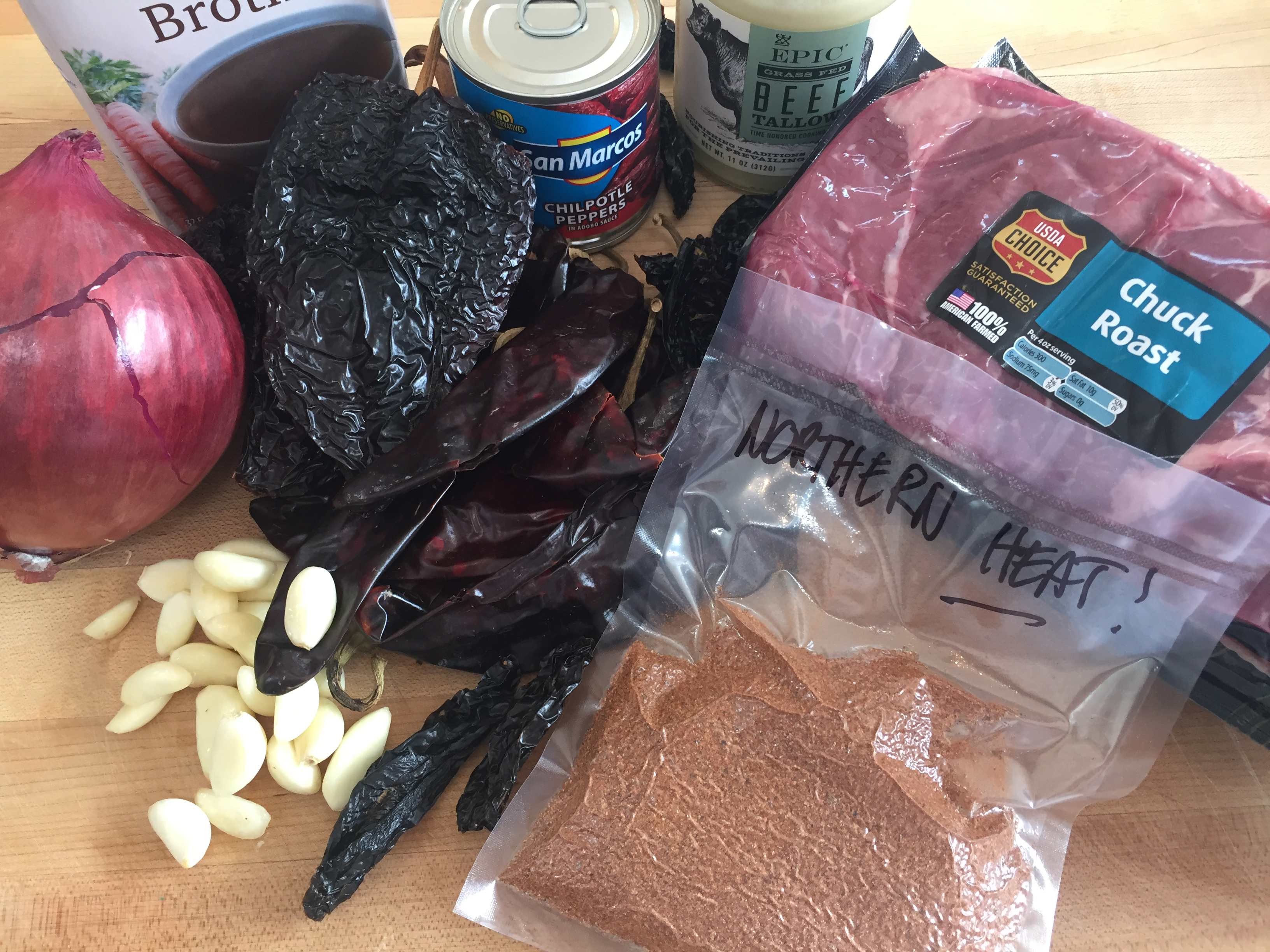 Ingredients:
• 4 pounds' beef chuck
• 1/4-1/2 cups beef tallow, see recipe or favorite brand, or as needed
• 2 onion, red, peeled and cut into halves
• 2 large Guajillo chili, dried, whole
• 2 large Ancho chili, dried, whole
• 1-2 small Morita chili, dried, whole
• 12 large garlic cloves, peeled
• 1-2 teaspoons Northern Heat Chili spice blend, see recipe, or as needed
• 3 Chipotle Peppers in adobo sauce + 2 tablespoons of sauce
• 2 cups rich roasted beef stock sous vide, see recipe, or favorite brand
• 1-3 tablespoons kosher salt, or to taste
• 1 teaspoon cumin, powder
• 2 teaspoons oregano, Mexican
Options for garnish:
• as needed Northern Heat Chili spice blend
• as needed lime wedges
• as needed Pinto Beans with Bacon
• as needed Guacamole
• as needed Tomatillo Salsa sous vide
• as needed cheddar cheese, sharp, grated
• as needed Mexican crema or sour cream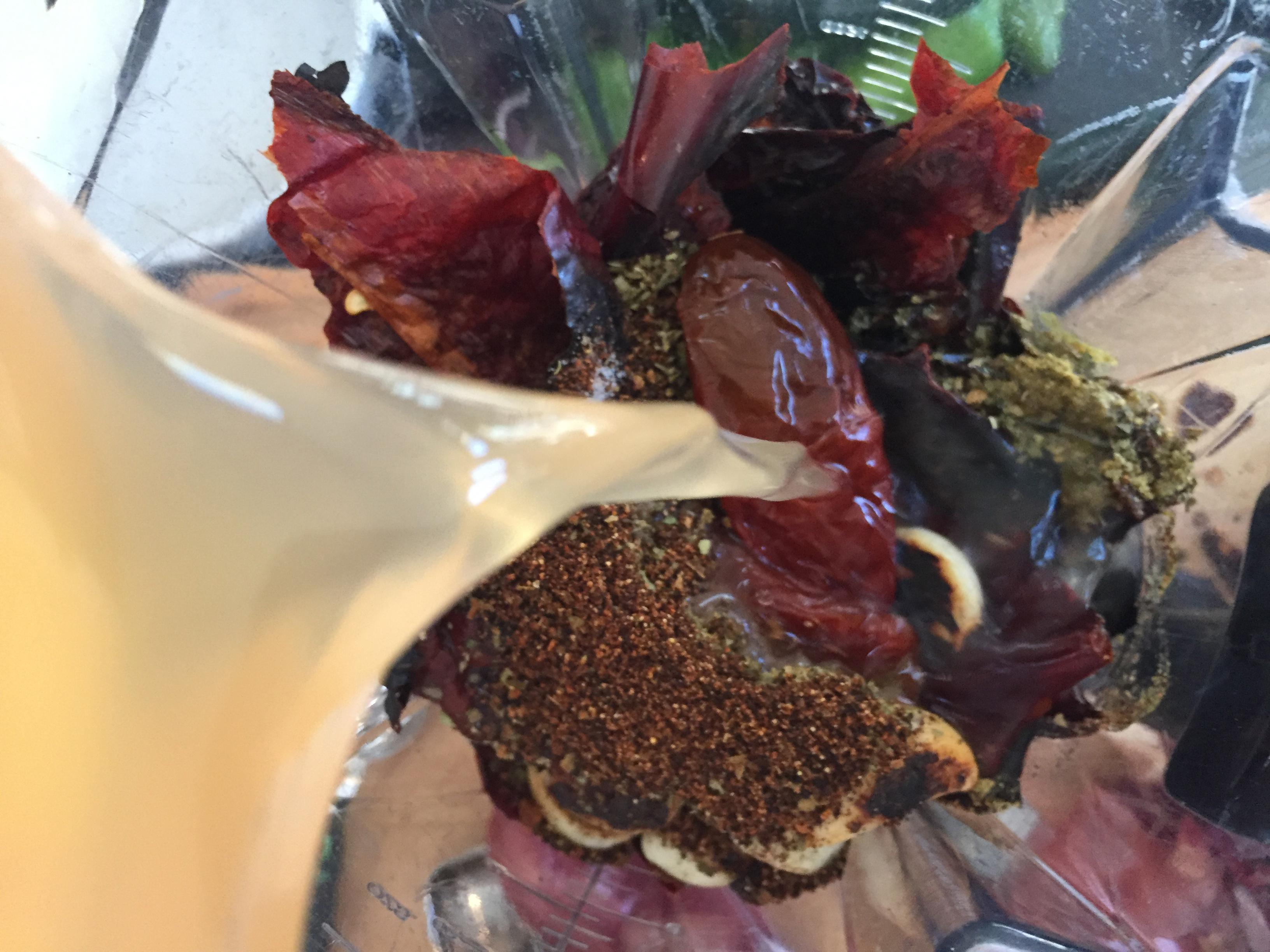 Directions:
1. Preheat the water bath of the VacMaster SV1 to 65°C/149°F
2. In a large well-seasoned cast iron skillet with high sides, heat the dry pan over medium high.
3. Begin toasting the guajillo, ancho and morita chilis in the pan.
4. The chilis should just toast about 30 seconds a side or so, or until the color changes slightly (but do not burn) and the chilies become fragrant.
5. Remove to cool and reserve.
6. Add the garlic and onion halves to the pan, dry, charring well on all sides, remove, cool and reserve.
7. When the chilies are cool enough to handle but still pliable, cut each one open lengthwise.
8. Remove the stem and carefully pull out the seeds and the veins, discard.
9. Cut or tear the cleaned chilis into small pieces.
10. Place the chilis along with the cooled garlic and onions in the bowl of a high-speed blender or food processor.
11. Add the northern heat chili spice blend, the beef broth, chipotles, adobo sauce, salt, cumin, oregano and blend to a fine puree, reserve.
12. Carefully wipe out the skillet and increase the heat to high.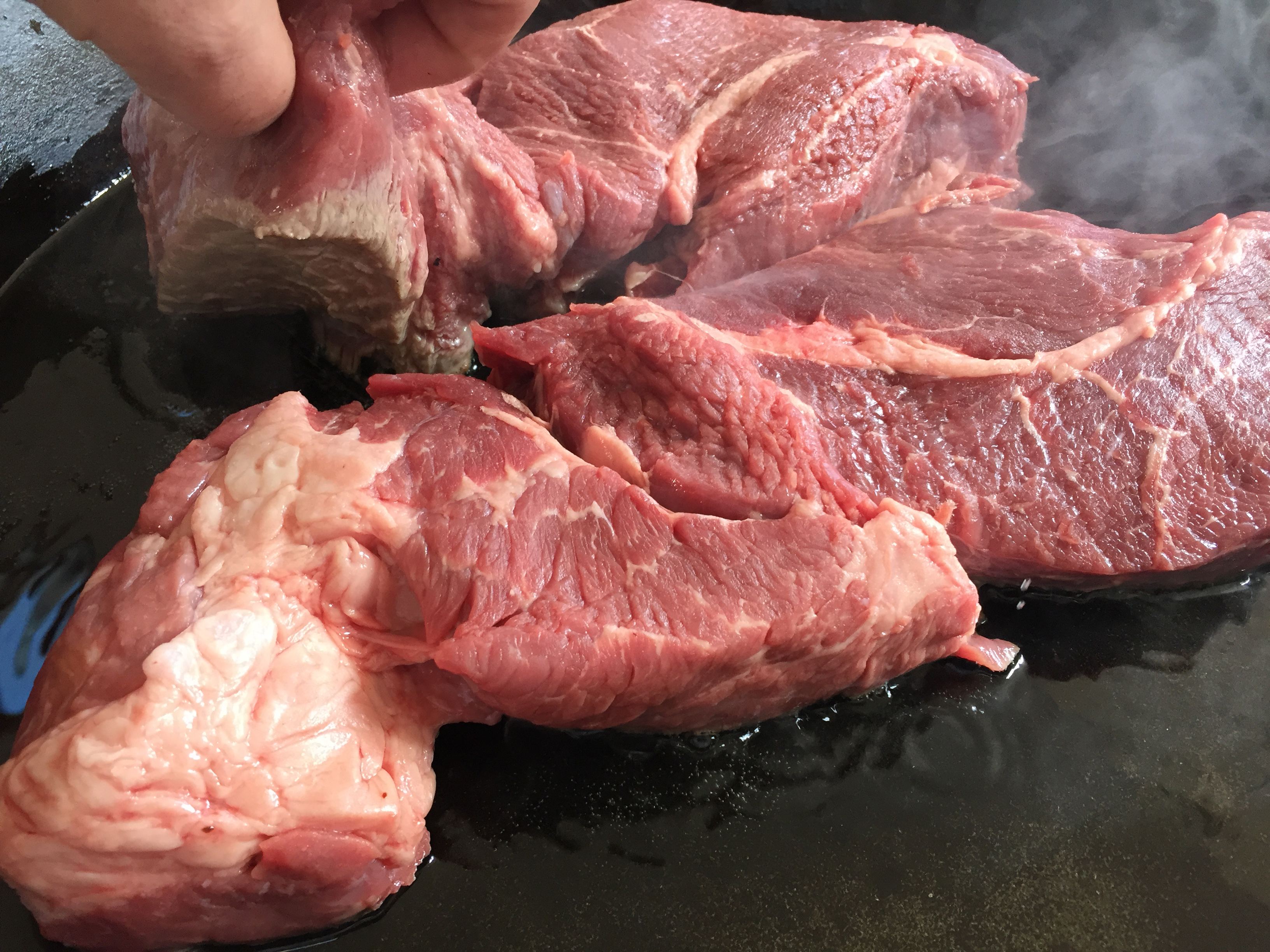 13. Add the beef tallow and when smoking add the chuck roast searing all sides about 3-4 minutes a side or until well browned.
14. Remove from the heat and let the meat cool, reserve, uncovered.
15. While the meat is cooling place the pan back on medium-high heat.
16. Pour the pureed chili sauce into the hot pan and reduce for 3-5 minutes or so or until the sauce is thick and can hold its shape, remove from heat and let cool.
17. Cut the cooled meat into large cubes about 1-2 inches' square.
18. Using the VacMaster bag filler and appropriate sized VacMaster bag(s) place the cooled and seared beef cubes and carefully pour in the cooled chili puree.
19. Using a VacMaster Chamber machine vacuum seal the bag(s).
20. Gently place the vacuum-packed chili into the water bath of the SV1 and cook for 30-35 hours.
21. Serve the Chile con Carne immediately with some lime wedges a bit of the Northern Heat Chili blend on the side along with any additional condiments of your choice.