Duck Tacos with Tomatillo Salsa & Chipotle Sour Cream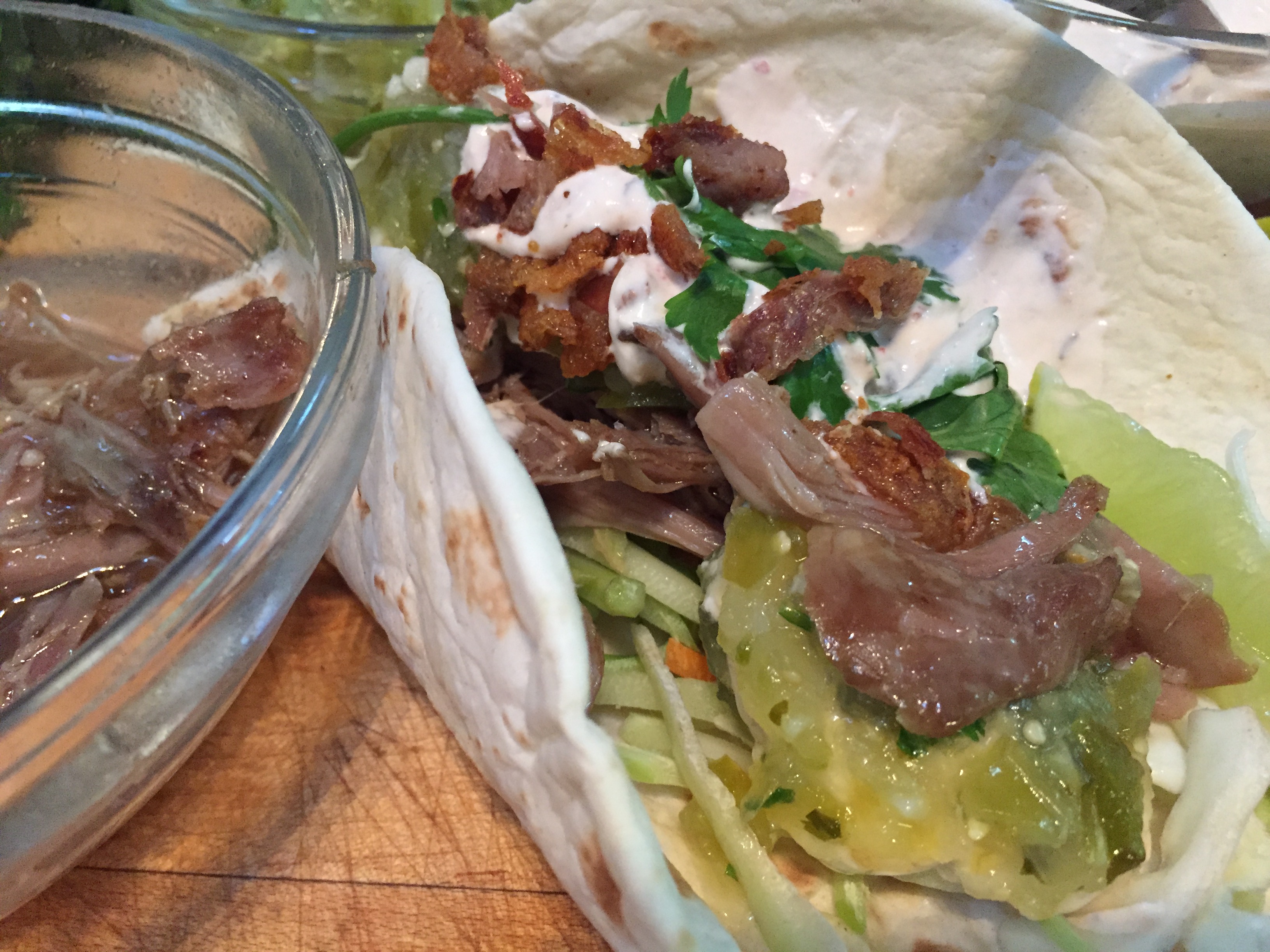 Once you have a batch of confit duck tucked away in your cooler you can have an amazing meal in minutes! Delicious on its own you can cook on the wild side if you're looking for something a bit more exotic. Try our duck tacos using the confit of duck sous vide, our tomatillo salsa sous vide and a delicious chipotle cream to finish it off!
Ingredients:
4 legs confitduck legs sous vide, see recipe
duck fat, reserved from duck confit
duck cooking liquid, reserved from duck confit
For the Chipotle Sour Cream
1-2 tablespoon chipotle chilies in adobo, or to taste
8 ounces' sour cream
2 teaspoons lime juice, fresh
salt and freshly ground black pepper, to taste
For serving the Tacos:
8 corn or flour tortillas, fresh, warmed
1 1/2 cups cabbage, finely shredded
1 1/2 cups tomatillo salsa sous vide, see recipe
cilantro sprigs, for serving
Directions:
1. Preheat the water bath of the VacMaster SV1 to167°F / 75°C.
2. Place the cooked Confit of Duck Legs sous vide in the bath for 5 minutes to gently heat through.
3. Gently remove the duck from the bag and strain the cooking liquid into a suitable vessel and discard the herbs and spices.
4. Let the cooking liquid cool and separate the duck cooking juices and duck fat, reserve
5. Heat a nonstick skillet over medium-high heat for 2 minutes with a bit of the reserved duck fat.
6. Add the duck legs, skin side down, and cook until well-browned and the skin is crispy, about 3- 5 minutes.
7. Remove the pan from the heat and the duck from the pan, when cool enough to handle gently remove the skin from the legs in one piece if possible
8. Using a chef's knife cut the crispy skin into thin strips, reserve.
9. Using your fingers shred the duck leg meat and discard the bones and tendons
10. In the same skillet over medium high heat add the shredded duck with a bit of the reserved duck cooking juices to taste and toss until heated through, reserve
For the Chipotle Sour Cream:
1. In a small mixing bowl blend together the sour cream, the chopped chipotle peppers along with the adobo sauce.
2. Season to taste with the lime juice and the salt and pepper.
3. Reserve.
For serving the tacos:
1. For each taco place a bit of the cabbage in the center of the warmed tortilla topped with some duck, tomatillo salsa and chipotle cream.
2. Garnish with some crispy duck skin and cilantro sprigs, serve immediately.