Sous Vide Negroni with Triple Sec & Lime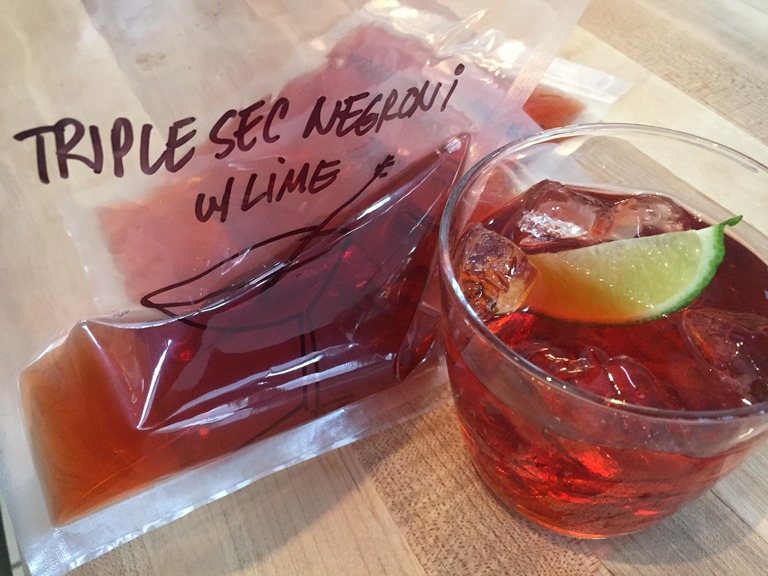 Orson Welles famous writer, director, actor and all around gourmand described the Negroni thus, "The bitters are excellent for your liver, the gin is bad for you. They balance each other."
If you're not familiar, the Negroni seems to have a hazy past as its precise origins are unknown.That a being said, most culinary eggheads feel that it was invented in Florence, Italy around 1919, when Count Camillo Negroni inadvertently created it by persuading his bartender at the Caffè Casoni, to turbocharge his favorite cocktail, the Americano, by replacing the usual soda water with gin and voila, the Negroni was born.
The Negroni is a classic that needs to be tried. It might not be refreshing but it is very complex and meant to be enjoyed — slowly. This is not a quaffing cocktail rather a "slow and steady wins the race" sipper. Speaking of sips, the first sip is bitter, almost too bitter, an affront to the senses — thanks to the powerful Campari. The second sip, (if your brave enough to take a second) is considerably softer allowing the sweet, floral, red vermouth and the herbaceous qualities of the gin begin to come through but it's the third sip that's truly is a game changer. Your mouth is now more accustomed to the cacophony of culinary flavors that a well made Negroni offers. Your taste buds find their groove and your ready to truly enjoy your Negroni and your surroundings — it's what every good cocktail aspires to.
One recent evening I was just finishing constructing my nightly Negroni but when I reached for the orange — there were none to be found. I improvised by adding a splash of Triple Sec to replace the fresh orange and then added a wedge of fresh lime — delicious! Whether you pick the original with the orange slice or try my Triple Sec and lime version both are amazing when they are pre-made and vacuum packed. Premixing the cocktail allows the flavors time to get to know each other and mellow out a bit. Lest you think the idea of premixing the Negroni is heresy it's actually a nod to Count Negroni's Family who founded Negroni Distillery and produced a ready-made version of the drink, the Antico Negroni. We are just picking up where the Negroni's left off, using cutting edge technology thanks to VacMaster. Vacuum packed premixed cocktails might sound a bit odd but in reality it's a wonderful way to streamline your party preparations. Pick one, two or a variety of cocktails, mix and vacuum pack. All you need at your home bar is ice, a bit of citrus fruit and perhaps a few carbonated beverages to top off your creations.
---
Negroni with Triple Sec and Lime
Ingredients:
- 1 ounces Gin
- 1 ounce Campari
- 1 ounce Sweet Red Vermouth
- 1 splash Triple Sec, optional
- 1 lime wedge, fresh, optional
- 1 orange slice, fresh, optional
Directions:
Using a suitable sized VacMaster chamber pouch or VacMaster zippered pouch measure out the gin, Campari, vermouth and Triple Sec into a bag.
Using a VacMaster chamber machine carefully vacuum the cocktail.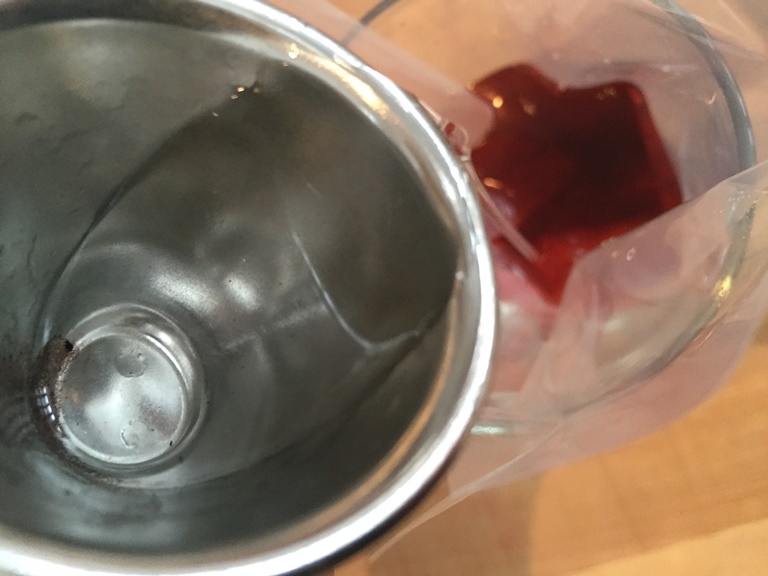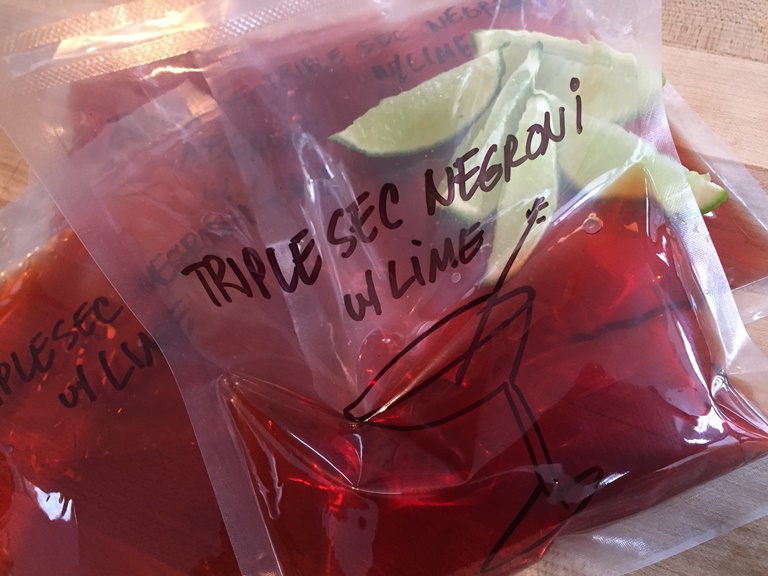 ---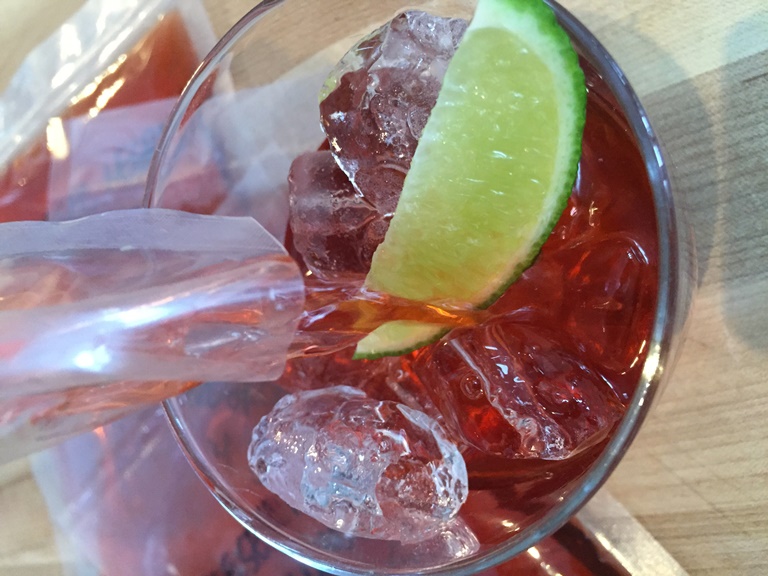 When ready to drink simply open the bag and pour the Negroni into a chilled Old Fashioned glass over ice and garnish with a wedge of fresh lime.