What is Sous Vide Cooking, And How Can I Try It At Home?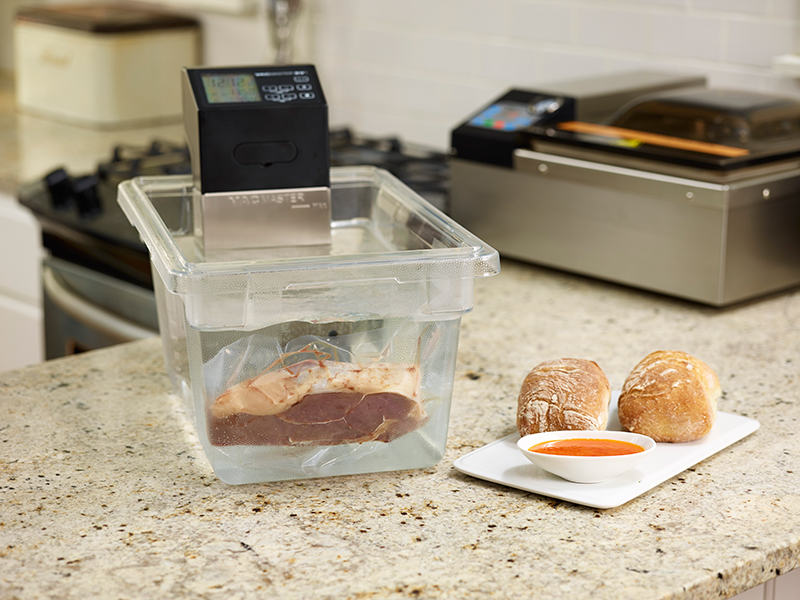 Sous vide is a French style of cooking that's been around since the 70's, but lately seems to be taking the U.S. by storm! Now used in many restaurants including, Chipotle, and Panera Bread, sous vide is becoming more accessible to everyone. In Europe big name brands like KitchenAid are selling large home unit appliances, while in the U.S. the style is mostly being used by curious and experimental cooks. One thing many of these early adapting cooks are enjoying about sous vide is that their unit serves as a more precise, high tech version of their slow cooker.
The English translation of sous vide is "under vacuum", because the method requires food to be vacuum sealed before cooking. This direct link between sous vide and vacuum sealing is where our passion for the style is rooted. Our authority on vacuum sealing makes our immersion calculator, the SV1, the ideal sous vide tool, at home or in the restaurant.
The SV1 is a powerful, easy to use unit, making it perfect for both, home cooks, and professional chefs. With a price point that is ideal for the home cook, 1500 watts of power allow home chefs to enjoy the quiet whisper of a professional quality tool. The only noise you'll hear is a beep when the machine reaches the desired temperature (just hit "start" to silence this) and a beep when the time is up, simple and efficient.
Want to learn more about sous vide? Check out our What Is Sous Vide page, or explore the Fresh Bites Blog for some great sous vide recipes.