Get 'sucked' into vacuum packaging with our Total Freshness System™ Bundle

Whether you are tired of your old vacuum sealer, interested in getting one for the home or have been on the fence about vacuum sealing you're in the right place. Here is the perfect opportunity to get "sucked" into vacuum sealing at a great value spending under $80. The Total Freshness System™ saves you money today when you purchase your bundle; as well as in the long run keeping bulk food or leftovers fresh up to 5x longer.
The perfect starter kit for vacuum sealing at home, the Total Freshness System™ includes the PRO110 home vacuum sealer machine as well as the vacuum sealer bag rolls you'll need to get started sealing your food for freshness and long term storage.
VacMaster vacuum seal bags are BPA free and FDA approved to safely store your food while preventing freezer burn. Use the Total Freshness system to conveniently package your summer harvest. Once your food is sealed it is ready to go into the refrigerator or the freezer until you are ready to use it. The bags are safe to boil and microwave for food preparation or for an easy meal on a hectic day. The bags are even suitable for sous vide cooking! Try your hand at making Chef Eric's best of both worlds sous vide baby back ribs or French styled scrambled eggs.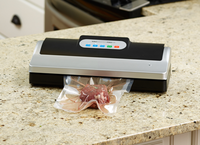 The Total Freshness System™ is so easy to use and clean that you'll be using it everyday! Use the seal only button to create custom sized bags cut from your bonus 8' x 20' rolls. Simply press down on the lid to engage the vacuum cycle and seal when complete. Compact in size and only four pounds, makes it small enough to store away or to leave out on the counter for daily use!