Duck Breast Sous Vide With Michigan Tart Cherries & Thyme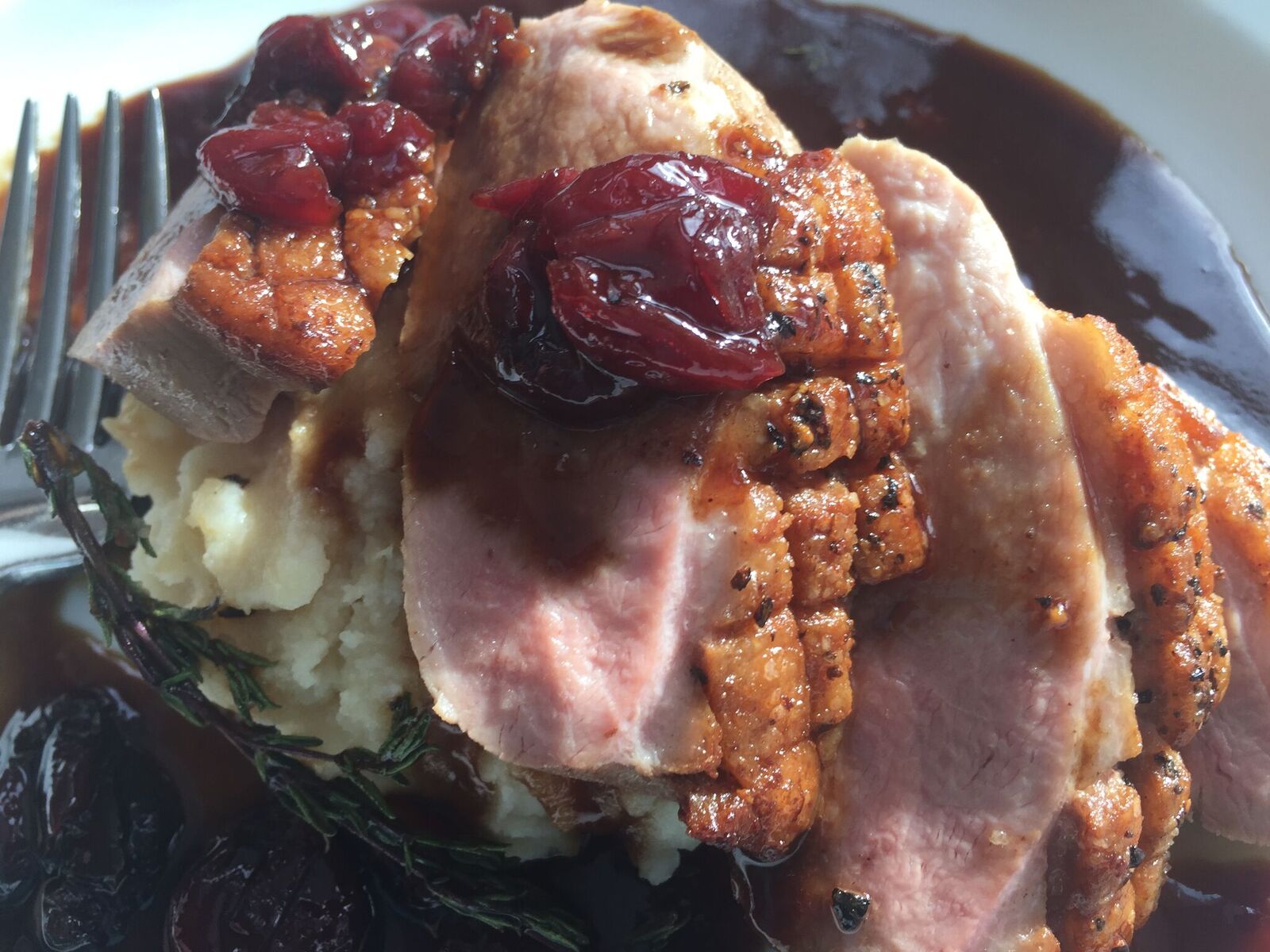 It might seem odd now but the classic pan seared breast of duck was actually "invented" the year of my birth, 1959 in Auch, France. It was a culinary scenario we have all heard many times before, a restaurant patron comes in for food at the worst possible time and as usual, nothing is available. This time there was duck but the meaty French Moulard duck breasts were destined for confit. As necessity is the mother of invention the two-starred Michelin Chef, Andre Daguin tossed the duck breast onto the fire and viola, pan seared "duck steak" was born. The dish literally swept through France and eventually menus worldwide where nowadays it's a restaurant staple and for good reason, a tad exotic for some but delicious to all.
Cooking this dish sous vide is the perfect way of preventing an easy pitfall of preparing duck breasts - overcooking. As the readily available Pekin duck variety is delicious it's also thin and easily overcooked due to its size as well as the rich skin. In some cooks valiant attempts to render the copious fat and crisp the delicious skin they end up overcooking the breast. Cooking the breast to a rosy medium or medium rare using the sous vide technique keeps the breast perfectly juicy and all that's needed is a few minutes skin side down to crisp the delicious skin. By scoring the skin ahead of time it allows the fat to easily render out as the breast crisps up.
I chose using a premium tart cherry preserve from Michigan for my sauce but any high quality fruit preserve would work well with the rich deep flavor of the duckling. Over the years I've used cherry, raspberry, blueberry even the unique thimbleberry from Michigan's Upper Peninsula. Regardless of which fruit you choose this ridiculously easy dish is sure to please!
---
Ingredients: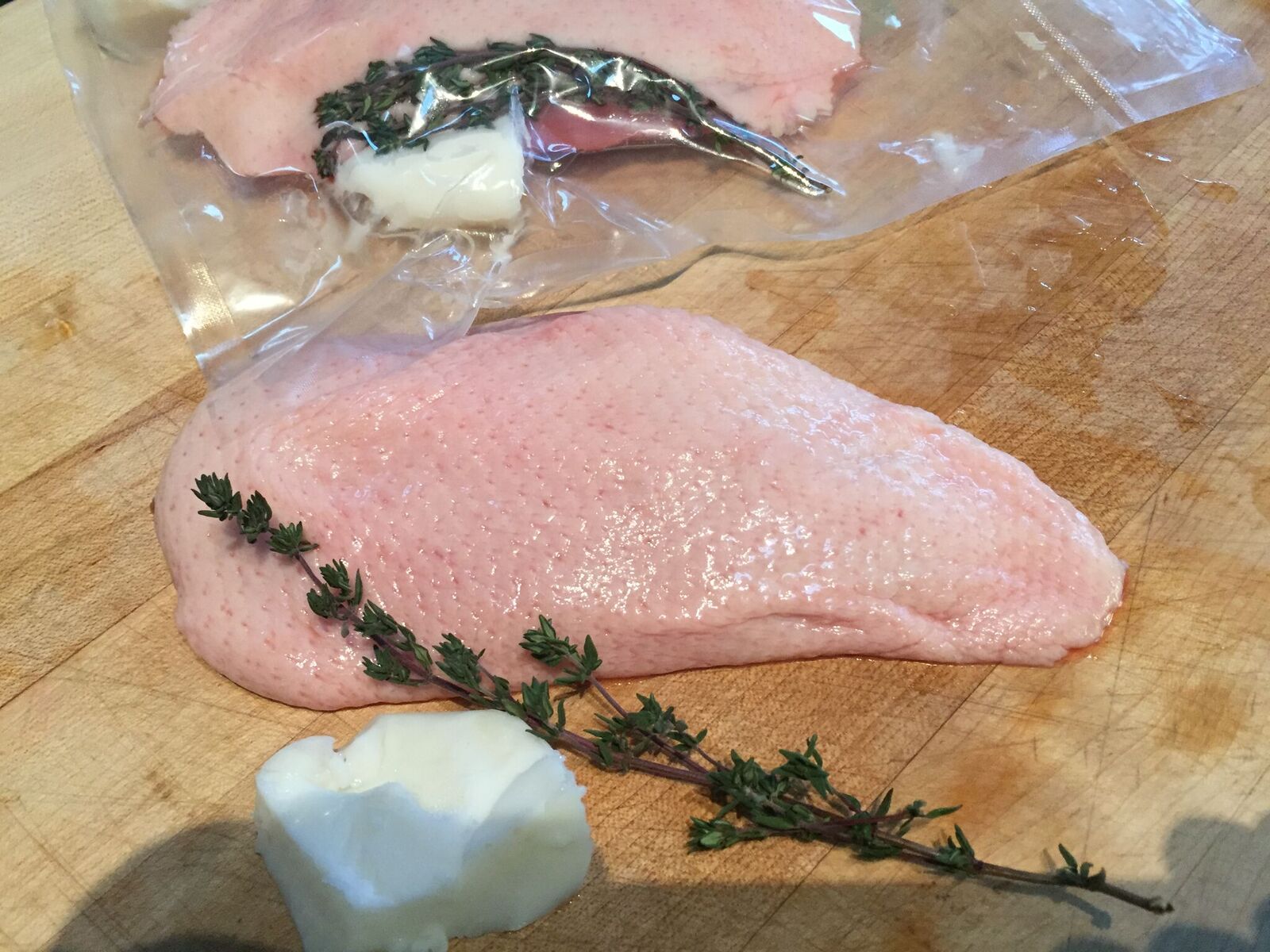 • 2 medium duck breasts, Pekin variety or similar, boneless, trimmed
• 2 tablespoons duck fat, rendered, chilled
• 2 sprigs thyme, fresh
For the tart cherry thyme sauce:
• 4 teaspoons duck glace or similar
• 4 tablespoons tart cherry preserves, premium quality
• 2 tablespoons unsalted "sweet" butter, chilled
• 2 thyme sprigs, fresh
• Kosher salt and freshly cracked black pepper
Directions: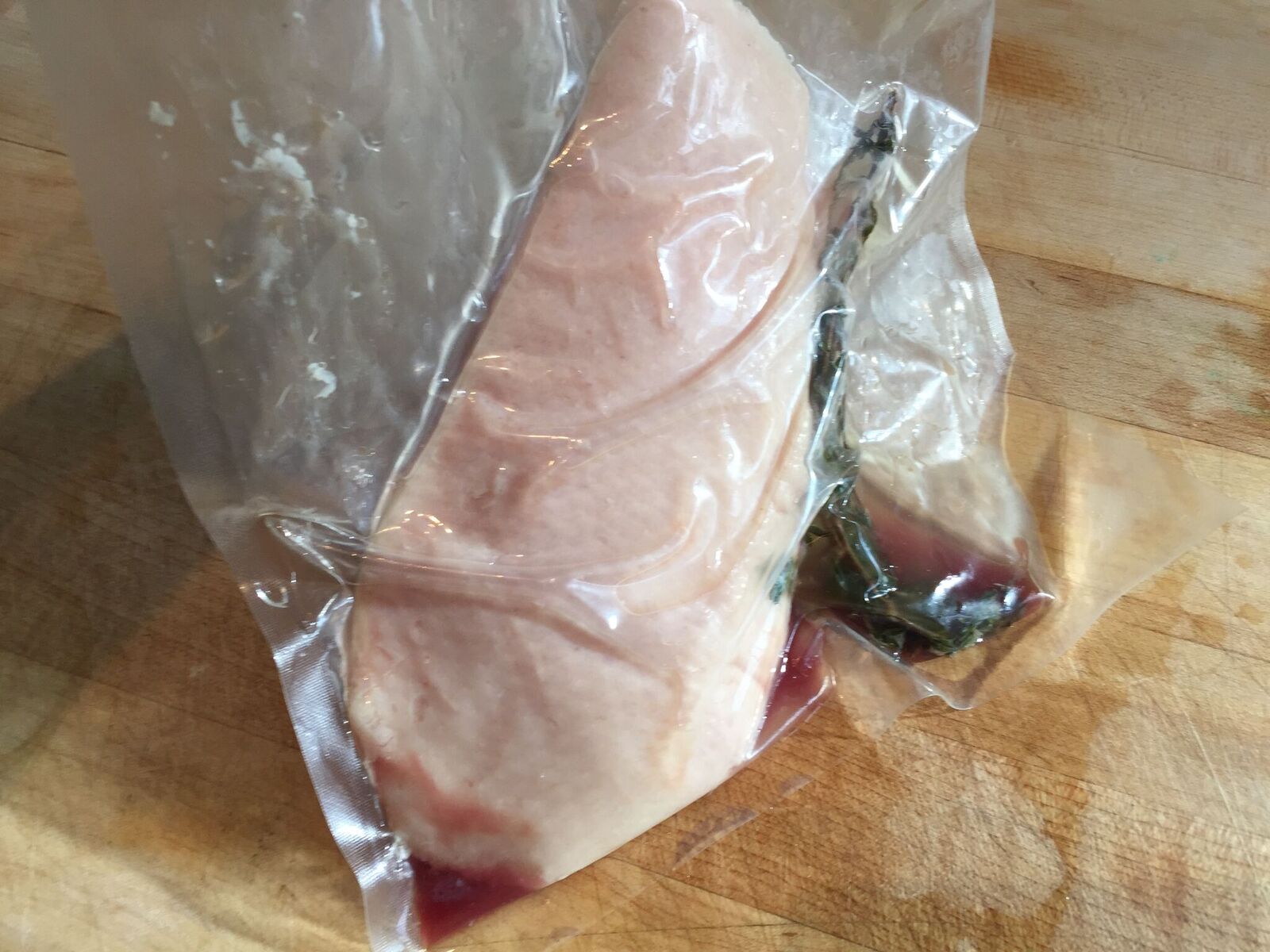 1. Heat the water bath of the SV1 to 57.2°C/135°F
2. Place the duck breasts in appropriately sized VacMaster vacuum bag(s) along with the duck fat and thyme sprigs.
3. Using a VacMaster suction or chamber machine, vacuum seal the duck.
4. Place in water bath of the SV1 for a minimum of 1 hour and up to 4 hours.
5. Remove from bag(s) discard the thyme and dry thoroughly with paper towels.
6. Using a very sharp thin bladed knife, score the skin in a cross hatch pattern being careful not to cut into the flesh.
7. Place breast(s) skin side-down in heavy-bottomed suitably sized non-stick or cast iron skillet set over medium high heat until sizzling, pressing breasts to ensure good contact between skin and pan until golden brown and crisp about 2-3 minutes.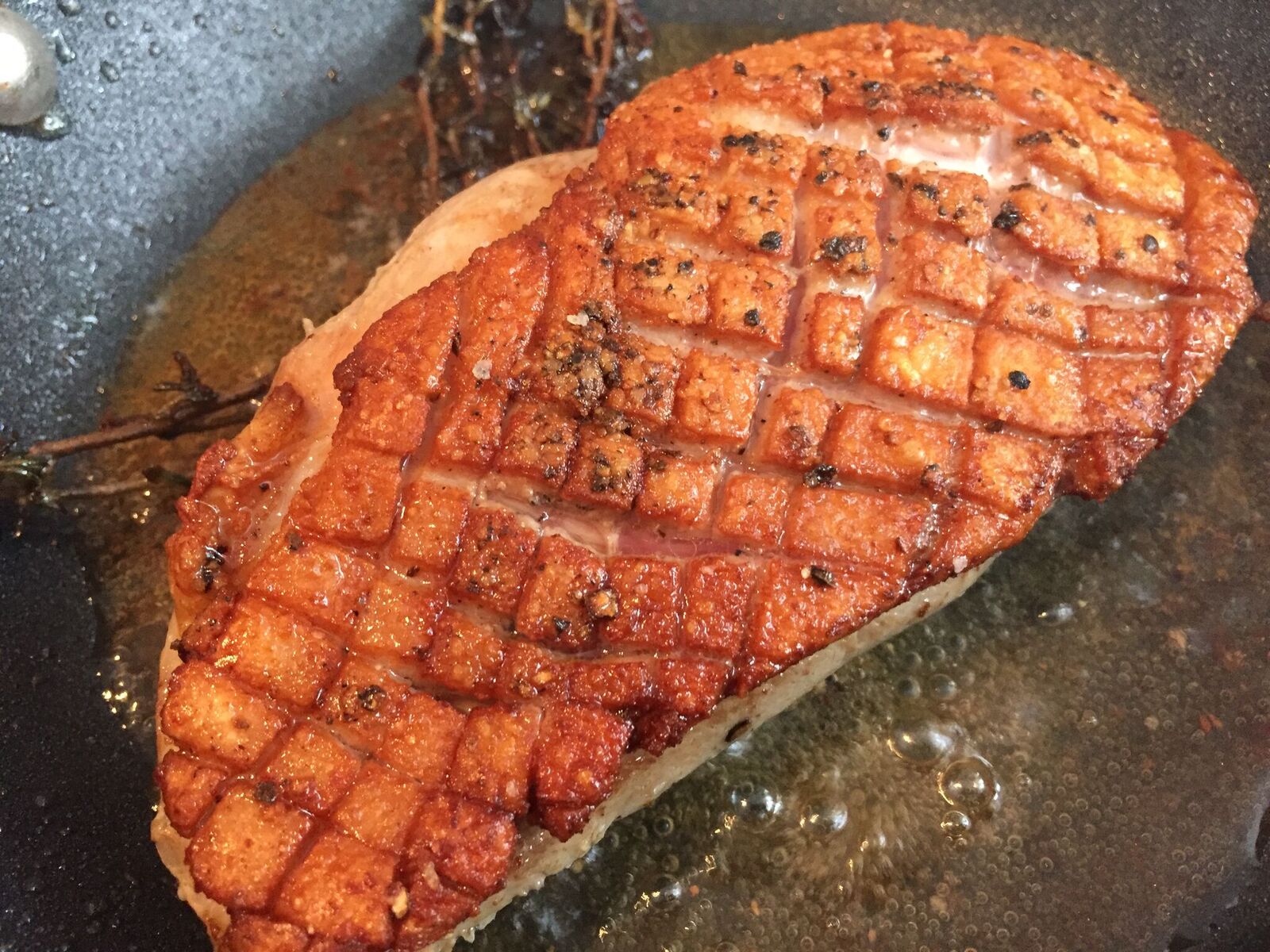 8. Reduce heat to medium, flip and cook second side until just seared, about 30 seconds or so.
9. Remove from the pan and allow resting for 4-5 minutes.
10. While the duck is resting wipe out the pan and add the duck demi -glace with the cherry preserves and bring to a boil over high heat.
11. Immediately add the chilled butter and thyme, whisk in until the butter is completely incorporated and the sauce is thick and shiny, season to taste with the salt and pepper.
12. Place the duck breast on a serving plate and top with the sauce, serve immediately.