Pulled Pork Nachos with Sharp Cheddar, Pintos, and Guacamole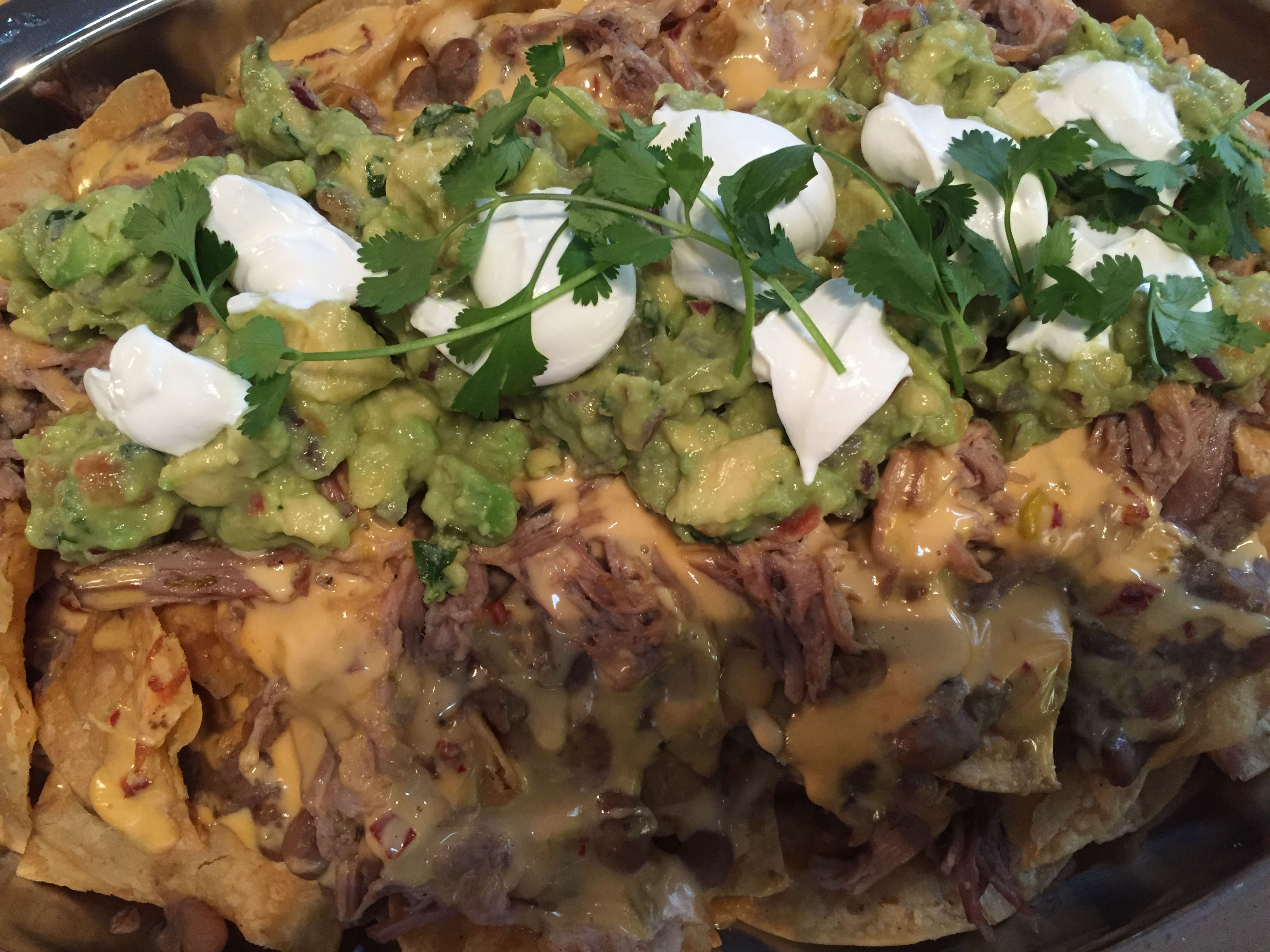 The place was the Victory Club in Piedras Negras, Mexico, the time was during the Second World War, the man was Ignacio Anaya and the dish was Nachos. Ignacio or Nacho as he was called was the maître d'hôtel of the Victory Club and on one particular night when a group of unexpected and hungry guests arrived with a closed kitchen it was Nacho who rose to the occasion. Unable to locate the cook and not wanting to turn away the patrons, Nacho put on his chef's sombrero. Frantically looking for foodstuffs he threw together what he had, tortilla chips covered with cheese and topped with jalapeno peppers - the rest they say is history.
It's a great story and so very similar to so many other classic dishes yet regardless of the lore Nachos are a culinary force to be reckoned with. An interesting thought though is the simplicity of the original dish compared to what we find in restaurants across the USA.
Nachos, "nachos" were individual canapes if you will a complete recipe on an individual chip. This style is echoed in neighboring Texas and is considered by many to be the Texas style nacho and the true original based on Ignacio's seminal work.
That being said I grew up in the "Magical Mitt", "The Great Lake State", the "Gastronomic Glove" of this great country of ours and our nachos are big and I mean really big. A multilayered mountain of chips, cheese, chilis, beans and meats, finally topped with guacamole, salsas and heart stopping mountains of sour cream.
For my taste it doesn't matter how my nachos are built, different styles for different moods is the way I see it. But what I am adamant about is how you get all those delicious components together - Sous vide is the way to go!
This recipe might look daunting but it's truly so easy to get all of the separate recipes together early in the week and when you're ready to serve simply reheat in the soothing warm waters of the SV1 and plate. If this cutting edge technique was available for Nacho back in the day who knows what else he could have created!
---
Ingredients:
• 12-14 ounces tortilla chips, salted, high quality
• 1 1/2 cups Sharp Cheddar Green & Chipotle Pepper Cheese Sauce, see recipe
• 2-3 cups Pulled Pork SV, see recipe
• 2 cups Pinto Beans with Bacon, see recipe, thinned with water to a just-pourable consistency
• 1/2 Guacamole, see recipe
• 1/2 cup sour cream
• 1/4 cup cilantro, fresh, stemmed
---
Directions: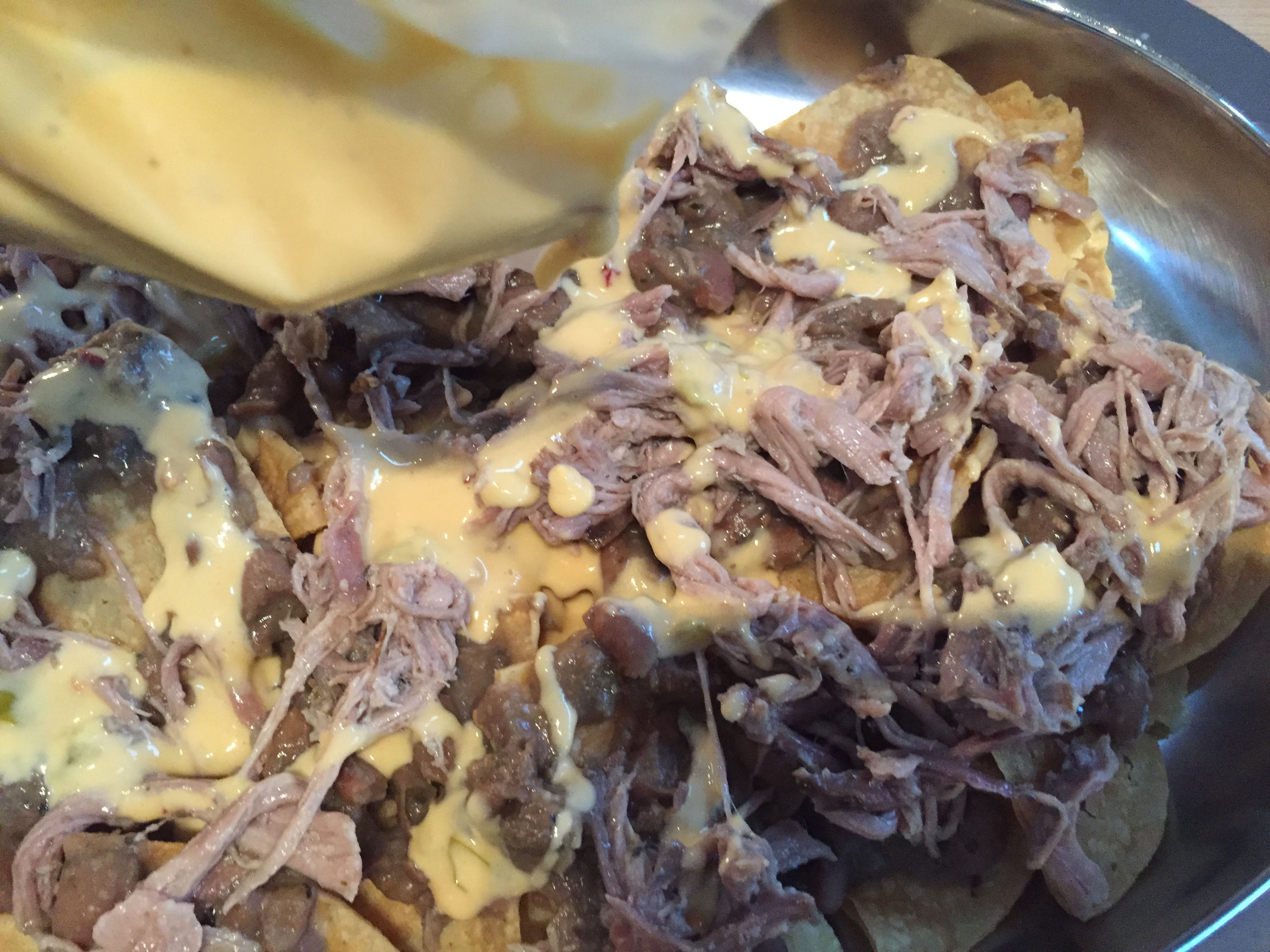 1. Adjust oven rack to center position and preheat to 375°F.
2. Layer 1/2 of chips in the bottom of a rimmed 9-by-13-inch baking sheet or suitable baking dish.
3. Drizzle with 1/2 of the thinned pinto beans and follow with the pulled pork and 1/2 of cheddar sauce.
4. Layer with remaining 1/2 of chips, and repeat with a drizzle with 1/2 of the pinto beans and follow with the pulled pork and 1/2 of cheddar sauce.
5. Bake in the preheated oven until everything is heated through about 5 minutes.
6. Top with guacamole, sour cream and fresh cilantro, serve immediately.