Shrimp "Scampi" with Linquini
Scampi can mean a whole bunch of different things to different people. Here in the good ole U.S. of A., "scampi" is often the menu name for shrimp in Italian-American cuisine. In Italian, shrimp is usually called gambero or gamberetto. Our good friends at Merriam-Websters define scampi as "usually large shrimp" as well as "large shrimp prepared with a garlic-flavored sauce."
Scampi in Italy are in fact tiny, lobster-like crustaceans which also go by the name langoustines or Dublin Bay prawns. One traditional way of preparing them in Italy is to sauté them with olive oil, garlic, onion and white wine. When our Italian friends began to emigrate to our shores and continued to cook the recipes of their homeland, they would swap local shrimp for the scampi that they used to, but they kept both names giving us, wait for it, Shrimp Scampi.
This version, based on the more standard classic recipe, makes use of garlic, shallots, white vermouth and butter tossed with a high-quality pasta. A quick cure of salt and baking soda helps plump the shrimp, and keeps them moist and juicy as they cook. This extra step gives the shrimp a crisper, snappier texture in the finished dish.
Though conventional cooking of this dish is relatively quick, sous vide can help make it even quicker with a little extra preparation! Simply prep, vacuum seal, and store your scampi in a refrigerator or freezer until you're ready to cook and serve. This recipe allows any chef at home or in a restaurant to prep in advance for a delicious shrimp scampi meal in minutes.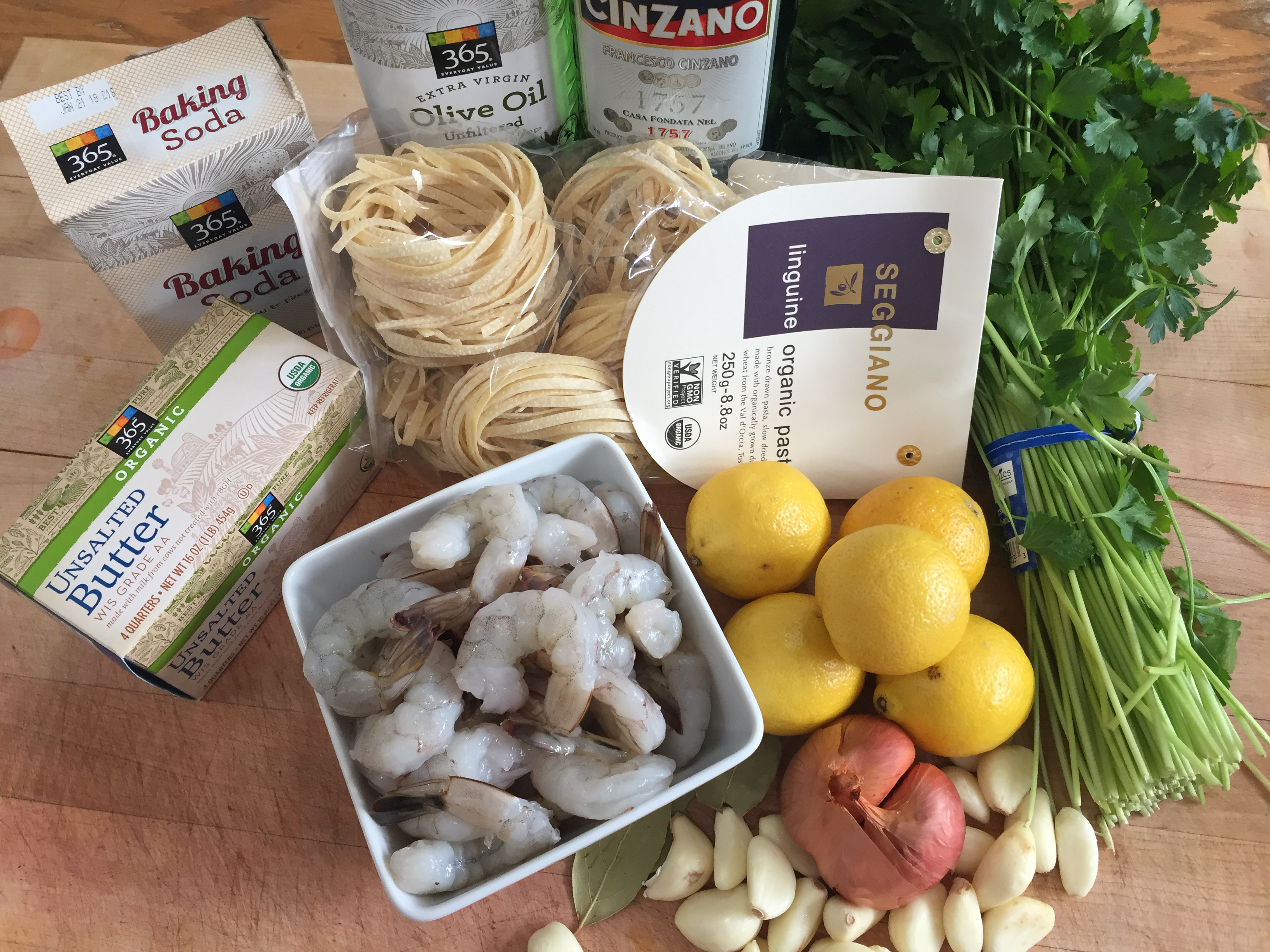 Ingredients:
For the shrimp:
• 1 1/2 pounds large shrimp, peeled
• 1 tablespoon Kosher salt
• 1/2 teaspoon baking soda
For the sauce:
• 6-8 tablespoons olive oil, evcp or similar
• 8 large garlic cloves, minced
• 2 large shallots, peeled and minced
• 3 large bay leaves
• 1 cup vermouth, white
• 1/4 cup lemon juice, fresh
• 2 tablespoons unsalted "sweet" butter
• 2 tablespoons lemon zest, fresh
For serving:
• as needed linguine, cooked al dente, pasta cooking water reserved
• 2-4 tablespoon unsalted "sweet" butter
• 1/4 -1/2 cup reserved cooking water, or as needed
• 1/4 cup chives, minced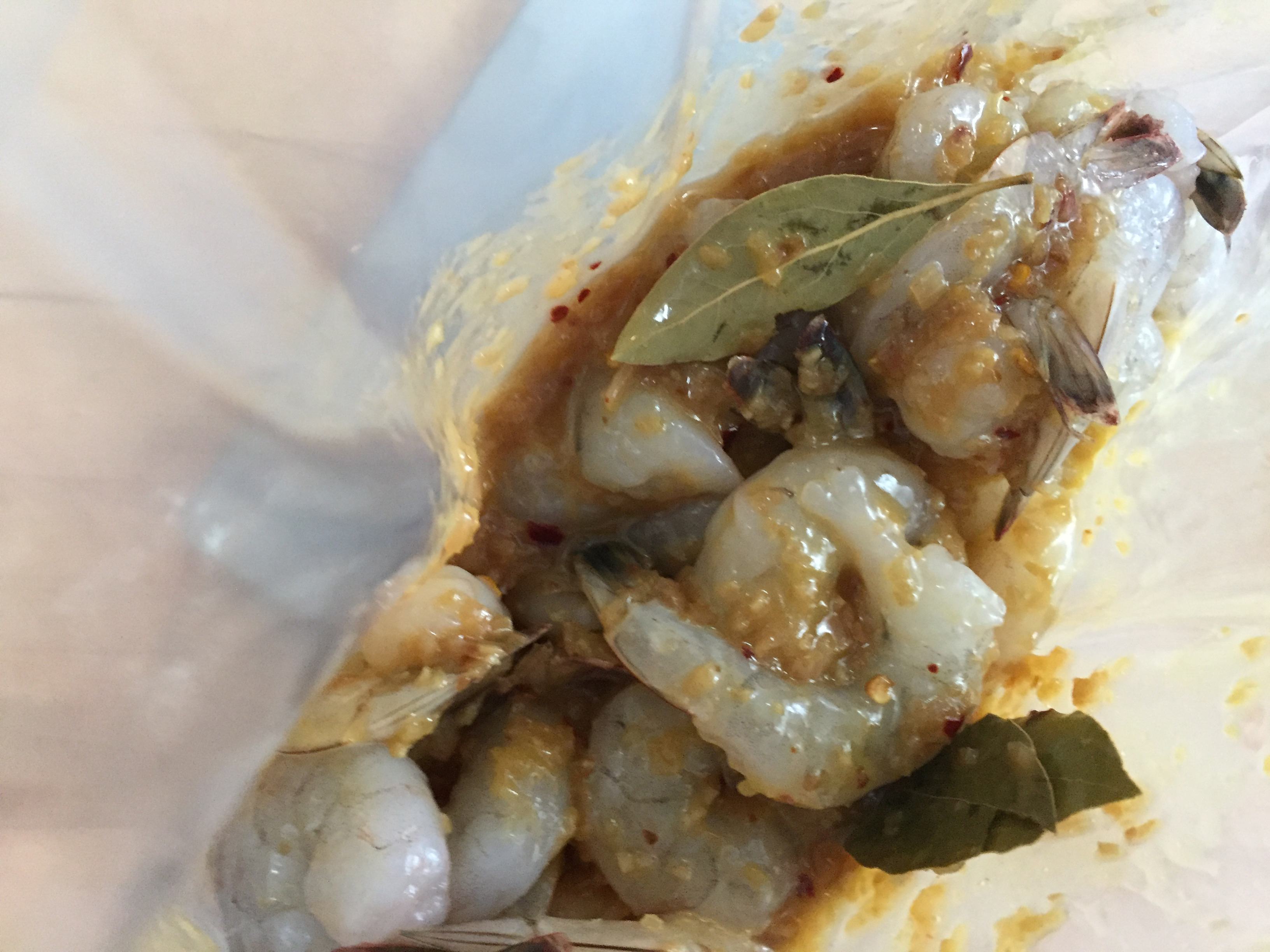 Directions:
1. Preheat the water bath of the VacMaster SV1 to 58°C/135°F
For the shrimp:
1. In a large bowl, toss the shrimp with the 1/2 teaspoon of kosher salt and the baking soda, reserve.
For the sauce:
1. Heat the olive oil and garlic in a large skillet over medium-low heat.
2. Cook, stirring, until garlic sizzles and softens but is not browned, about 3 minutes.
3. Add the shallots and bay leaves, cook, stirring until fragrant, about 30 seconds to a minute.
4. Add the vermouth, lemon juice and increase heat to high, cook until the liquid is reduced and sauce starts to emulsify about 2 minutes.
5. Remove from heat and stir in butter.
6. Taste the sauce and season with salt to taste and let cool about 5-10 minutes.
7. Using the VacMaster bag filler and an appropriate sized VacMaster bag add the reserved shrimp, lemon zest and pour in the cooled sauce.
8. Using a VacMaster chamber machine gently press the shrimp into a single layer and vacuum seal.
9. Gently add the pouch to the water bath and cook for a minimum of 15 minutes and up to 1 hour.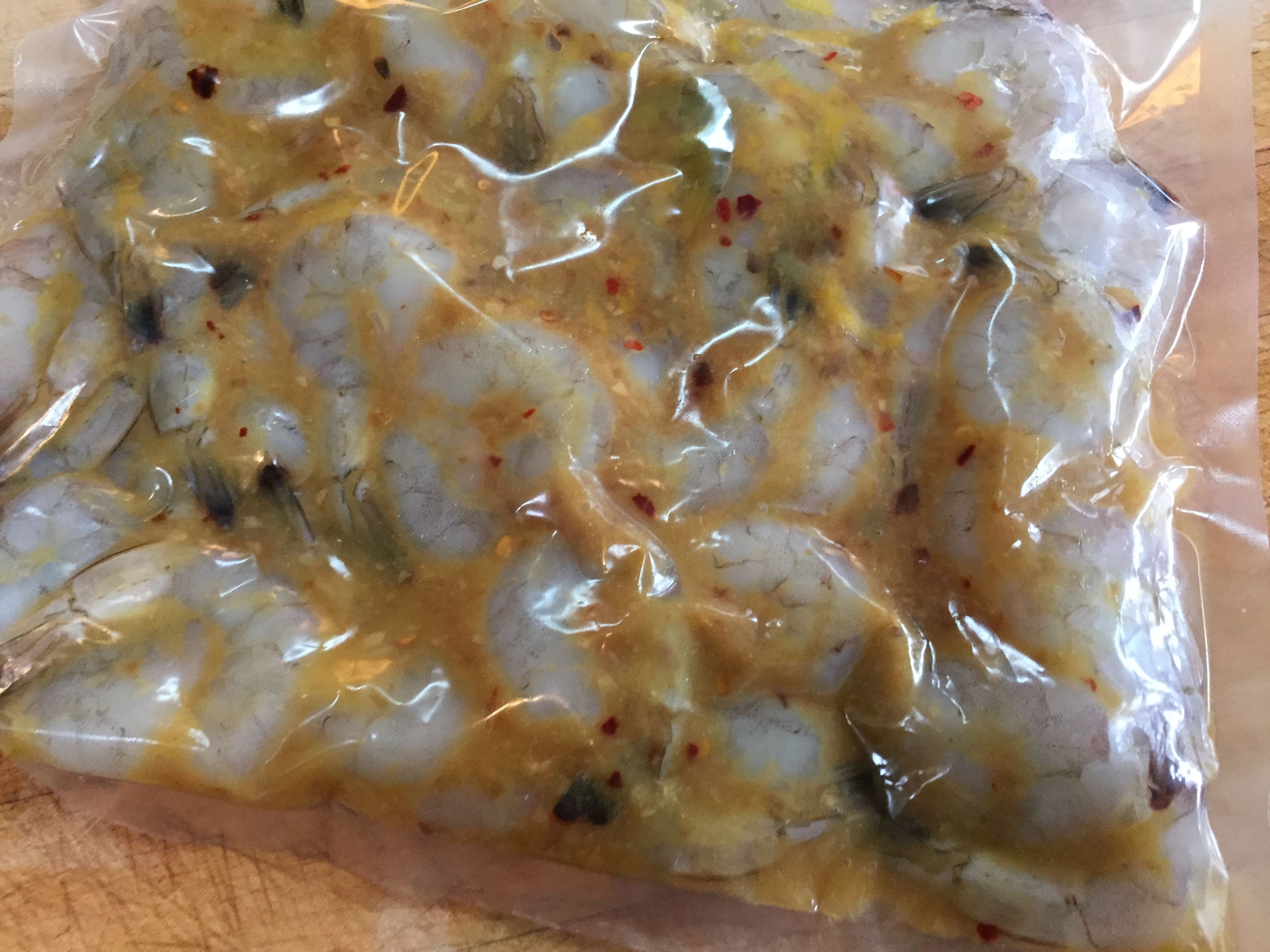 For finishing the dish:
10. Preheat a large saucepan over high heat and add the butter, reserved pasta cooking water and cooked linguini toss for a minute or so to heat through.
11. Add the contents of the shrimp bag to the pasta and mix thoroughly.
12. Bring the mixture to a simmer, add the chives, season to taste with salt and pepper and serve immediately.